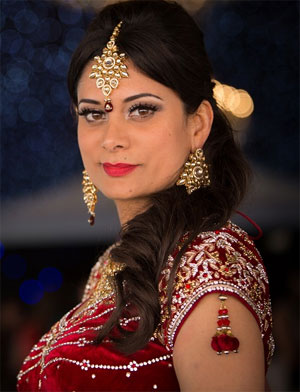 Along with the cast of the three main characters of childhood friends Amar (Rez Kempton), Akbar (Sam Vincenti) and Tony (Martin Delaney), the story of the coming of age film Amar Akbar & Tony, is also enhanced by the incredible actresses that are part of the world of AAT, including the fabulous Goldy Notay (It's A Wonderful Afterlife) .
We have a fascinating interview with Goldy Notay, where she paints the picture of working on the independent film, plus she reveals why she loved the character of Sonia, tells a driving story with actress Karen David and so much more.
What was it about this character and the script that made you want to be a part of Amar Akbar and Tony?
I had a meeting with Atul (the Director) and thought he was such a great, no-nonsense guy. I was sent the script, which I not only found laugh-out-loud funny but a refreshing diversion from the norm. I had an instant love for Sonia when I read the script. She was a departure from the characters I normally played and was totally uninhibited and unashamedly which I knew would flex and stretch me.
How would you describe Amar Akbar and Tony?
It's about 3 childhood friends from differing religious backgrounds but have the cultural common ground of West London. The boys love partying, girls, and general lad badness until life throws them a curve ball, which tests the foundation of their friendship. I suppose the grand metaphor being – what happens when the party abruptly ends and you are catapulted into adulthood. It's a coming of age comedy but with some pointed dark moments.
Do you see a relationship to the classic Hindi film Amar Akbar and Anthony?
Although it's an iconic film, I'd only seen it recently. The main parallel being that both stories revolve around three guys raised in different religious sects but with a familial attachment that links them for life. In Amar Akbar and Tony, it's a brotherhood instead of biological, but nevertheless a familial bond. Atul also wrote the script and seems to have an affinity for films from the 70's and I think our film pays homage to the original.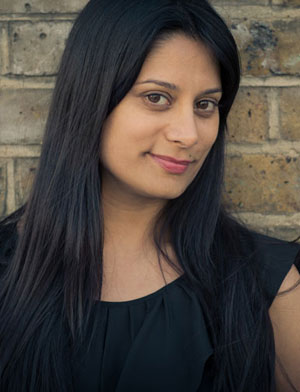 Tell us about your character Sonia in the film.
Sonia is quite close to her brother (Amar played by Rez Kempton) evidenced in them gallivanting and clubbing together. Asian brothers can often be parental figures, but the two of them have a keen camaraderie as siblings. In addition, Sonia is feisty and flirty with Amar's friends and gives the impression she's been around the block a few times.
How do you prepare to play your characters?
I'm a total nerd and bookworm and imbibe everything I possibly can about the world of the script. I'm also a bit of an idiosyncrasy thief.  I pinch gesticulations from friends but generally my film characters come to life on set. Wardrobe and make up artists are true alchemists and often unsung heroes. I was on set and given big hair and big lashes, and was then sampling a few clothes for Sonia.  I tried on a too too tight tight short short dress (the kind that would ride up to your hips if you sat down) and I remember thinking "Yup, here she is. Here's Sonia".
How was it to work with Atul Malhotra?
Atul is one of the coolest guys I know. He has a 70's style to his filmmaking. Elongated Scorsese shots with a bit of pointed Peter Sellers humour, topped with Starsky & Hutch slickness. He lost heaps of weight and probably hadn't reached REM for years because of his commitment to this film. He's total heart and I'll jump through fire hoops to work with him again.
Tell us about working with the cast that includes Rez Kempton, Martin Delaney, Sam Vincenti, Laura Aikman and Karen David.
The boys were quite cheeky and fun on set and we had a blast. Humour is so essential as filming can be fatiguing; long days and a lot of "hurry up and wait". I had a funny moment (although not at the time) in a scene with Karen in which I had to drive a car down the street and park it by the curb. Seems simple enough. Karen played a character who was a new bride, and in real life she was going to get married… I think in a matter of days. And she was in the car alongside me. After many takes, Atul said to me "Goldy, can you just…you know…drive". But I was so acutely trepidatious. All I kept thinking was "if something goes wrong, she'll miss her wedding and it'll be my fault, and everyone will hate me." So yes, we had too many takes and a somewhat frustrated director before I finally…just…drove. Karen and Laura are wonderful to watch in the film. And my driving wasn't too bad either.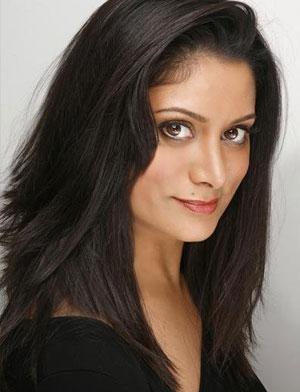 What did you enjoy most about making the film?
My favourite experience was a wedding scene. You'll have to see the film to find out who gets married. It was quite an extravaganza thanks to all the set designers, crew and extras (who really went for it, pretending to be bona fide wedding guests). It truly felt like a proper wedding. And we got to bhangra dance too, which for a Punjabi girl like me, any opportunity to shrug my shoulders to a beat is a connection to my ancestors.
Was it a challenge it being an independent film?
It was total heart all across the board. People didn't say yes to the project because they were going to make heaps of money, or because a Hollywood A-lister was attached. We were fed, watered, and looked after by the Producer and Director. And we got to do the thing we love on an egalitarian playing field. What more could one ask for? Maybe a few more bananas! The best fruit for filming!
What do you hope audiences will take away with them after seeing the film?
I want them to have a great night out. It's a feel good film but a bonus would we if the film has a lasting effect after the end credits, which seeps into discussions on the ride home.
What do you think makes Amar Akbar and Tony special?
It's a modern look at family, honour, and the quest for love in British Asian Londoners. There are a few twists in the end that I think some might find controversial but also endearing.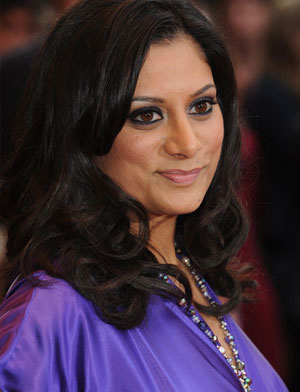 Do you deem that this film will showcase real Indian characters and help change the way Indian characters are portrayed in cinema and TV?
Hmmm, it's a tough one. I find people are censorious of non-Asians who write about Asians and yet they are also equally critical of Asians who write about Asians. Look at the explosive reaction to Citizen Khan. I grew up in Canada and was raised on sitcoms so my response to that show was not a harsh one. It's important to have a varied, accurate, but also experimental library of work out there. My take on this is that we need more work out there so that we're not fixated on crucifying what little is available.  The more we see, the more the benchmarks are lifted. I try to support it all, even the not so polished work because otherwise we have nothing. So in response to your question, I'm certain there will be some criticism but I think it will be balanced by others who will see themselves realistically represented.
 What are your thoughts on the music by Rishi Rich?
Rishi was on set with us and used to sit in a quiet corner. He was very unassuming and I really like what he's concocted for the film. Hopefully he can come and see the final product as I hear he's rather busy working with some cool guys in America.
Why do you think it has been a challenge to get the film to a mainstream release?
Everything's a commodity. People are so reluctant to try something different, to take risks. As an Asian actress, we seldom have leading roles. We often blame the writers and casting directors, who blame the directors, who blame the producers, who blame the financiers – who inevitably want a return on their investment. So everyone sticks with the safe choices.  And we're back to the writers who generally tell stories that will be received by the Caucasian diaspora.  Where does that leave the rest? So the fact that Amar Akbar and Tony has been given a birth is down to a tough gestation period, a long labour, tenacity and sleepless nights for all those who believed it should be included in the grand library of work.
What did you think after you saw the final film?
I was proud of everyone. A real genuine feeling of "my gosh we bloody did it". But personally, all actors watch themselves with much scrutiny with the first viewing. There's a lot of "why did I say the line that way, ewww, not a good angle for my face". That kind of thing. So I'm looking forward to relaxing into a second viewing.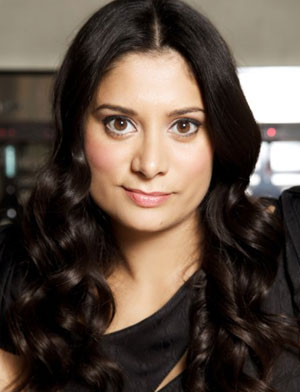 How do you think your stage work helps your film roles and the reverse as well?
They both require a different flexing of muscles so overall this strengthening is beneficial to all mediums. My training was in stage and it's my stomping ground. It's tribal and dynamic and also terrifying. You can't have another take if a line is lost but you can fix something that didn't work the following night. Both mediums require truth but film demands it. With film I had to learn to squeeze out the marrow, pluck the nucleus and keep the eyes alive.
What are your thoughts on Hindi cinema today?
I don't watch a lot of Hindi films actually. Perhaps it has something to do with being forced to watch them as a child. I tend to feel a disconnection as the style of acting is quite melodramatic. I did however recently watch Bombay Talkies and Barfi, which I enjoyed. I'm also an aficionado of Hindi Art Cinema, which explores unchartered terrain and crosses the taboo demarcation lines. I recently worked with legendary screen actress Shabana Azmi who was really impressed that I'd seen all of her art films.  What I appreciate the most about Indian films is the cinematography. It's enriched with colour and infused with the beauty of the land and people. The DOPs know how to light brown skin! This requires time and skill and I find in the UK, very few are able to light us properly. Maybe if there were more of our faces on the screens…
What is coming up next for you?
I'm filming Red River; a film written, directed and produced by Emma Lindley (UK Directors to watch list). It's about a young British Asian mother named Madhuri (who was a child bride) and is now grooming her daughter to marry a man much older than her. The story doesn't demonise the mother but also doesn't condone something, which is alarmingly prevalent in the UK. The Forced Marriage Unit recently reported 1,300 cases with one in eight below the age of consent.  These are only the reported cases so the problem is possibly on an even greater scale. So I'm really humbled to be part of such an important film.
We would like to thank her for her incredible answers and look forward to perhaps interviewing her again one day.
Directed by Atul Malhotra, Amar Akbar and Tony, which opens on April 17th, stars Rez Kempton, Sam Vincenti, Martin Delaney, Karen David, Laura Aikman, Goldy Notay, Tanveer Ghani, Meera Syal, and Nina Wadia.