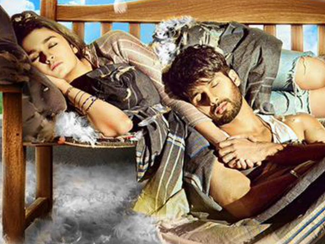 The very good looking lead pair of this enormously disappointing film, ironically and pompously calling itself Shaandaar, are insomniacs. To prove it, they even get a ravaged remix version of the classic number 'Neend Na Mujhko Aaye' playing in the background as Shahid and Alia go fishing, dancing, and generally pfaffing around to fob off sleep-challenged ennui.
I have a great solution for all insomniacs. Watch Shaandaar. Repeatedly in a loop. Sleep guaranteed.
Outwardly the film has everything going for it. The director of Queen Vikas Bahl helming the hijinks as two ridiculously ostentatious business families gather for a destination wedding in a European idyll.
It must have cost them a bomb. To make the film, I mean. To cart the large cast of bimbos, bimbettes, toy boy and joy girls all to a European destination for a film that must have seemed smart on paper…very smart. After all, some of the best writing talents, including the highly-regarded Anvita Dutt, are part of this endeavour. Then there is the cast, from the 23-year old baby of the family Alia Bhatt to the monstrously tyrannical matriarch Sushma Seth, who lords over the family. Then one day she just dies. And the entire family gathers to laugh over her dead body.
Ha ha.
No, that's not a spoiler. It's a declaration of the plot's bankruptcy. The narrative is so bereft of any genuine inspiration that it repeatedly resorts to gimmicks to explain its convulsive movements. There are two lengthy episodes of animation where we see Pankaj Kapoor's character much younger and doing what Naseeruddin Shah did in Shekhar Kapoor's Masoom. Bringing home to his family a child born out of wedlock.
In a highly ironical twist of fate, Naseer's baritone provides the voiceover for the Masoom sections of the plot. I am not sure if director Vikas Bahl was aware of the irony involved in getting Naseeruddin Shah to do the commentary in the Masoom section. The film seems exceptionally devoid of self-directed humour. It sets off to create a giggly grandiosity at the cost of wedding revelers and soon becomes a casualty of its own ongoing joke about loud Sindhis and louder socialites.
The gags don't know how and when to stop themselves. The characters, designed to be over-the-top, trip over their own cleverness.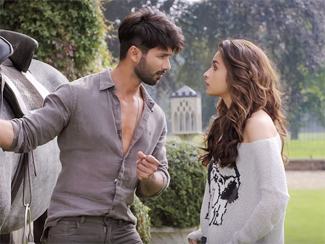 Shahid Kapoor is the wedding organizer who soon becomes the resident Mr Fix-it at the marriage venue. His ongoing war of words with his love interest's screen-father Pankaj Kapoor would have been interesting if they had anything funny or insightful to say about the over-possessive father of the bride. Heckling the man who wants to marry your daughter is not enough to make you the desi Steve Martin.
Sadly the conversations are all designed to reach the high-point without negotiating any recognizable routes to a coherent and logical argument. The over-weight bride (newcomer Sanaah Kapoor) makes a statement on a marriage of convenience. But with the supporting characters being excessively caricatural, Sanaah's efforts go to…er, waist. And stay there.
Pulling in its stomach, the narrative tries to be sexy sinewy and seductive. It ends up being more anorexic and wheezy than agile and athletic. By the time we get to the mid-point there is no more story to be told. We know everything that Shaandaar has to offer about direction-less destination weddings.
Alia and Shahid make a good looking couple. And that's about all we can say about their sketchy characters, one a wedding planner, the other a sleepless dreamer, both insomniacs and hopelessly in love with their characters' quirks. Alia and Shahid get able support from Pankaj Kapoor and Sushma Seth. But the other actors seem to hang around the plot hoping they look cool enough for a comedy that aims to be urbane and cool. Sanjay Kapoor as the bridegroom's Sindhi brother seems more concerned about getting the accent rather than offering any genuine laughs.
Shaandaar is awfully written and indifferently directed enough to put you off destination weddings forever.