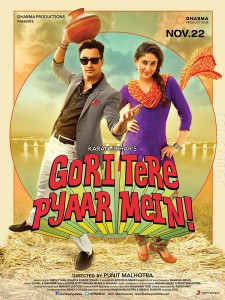 Redefining a genre is a huge and extremely difficult task but quite possible when you have a strong hold on the story of a film. Even if its with a basic plot and handful of actors. Punit Malhotra has said his latest offering of Gori Tere Pyaar Mein had the capability to do so.  This writer is wondering what made him think so after seeing the final product.
The tour guide version of casanova boy meets social activist girl, their clashes, fun times, 2 songs, a few loving looks, a taboo topic and finally the fight that broke them up is told to Vasudha played Shraddha Kapoor like episodes of a tv drama. Tickles the interest with some catchy tunes, random wittiness and pretty scenes but doesn't show the loopholes of depth. Just when you thought you had enough of the rather predictable love story proceedings of Sriram Venkat (Imran Khan) and Dia Sharma(Kareena Kapoor Khan), we are taken to Jhumli, a village in Gujarat where the Casanova, i mean Imran Khan becomes your average aam janta on a mission to get his girl, redeem himself and build a bridge for the townsfolk.
Amongst the predictability, and possibly the saving grace, is Nizhalgal Ravi and Anupam Kher who switch from comic relief to character artist/ villain respectively at random moments. Shraddha Kapoor is absolutely stunning but sleep walks throughout. Unfortunately the rest of the cast are a blur due to overcrowded-ness or lack of dimension. But of course the star attraction is our Ek Main Aur Ekk Tu duo making a comeback to the screen, Imran Khan and Kareena Kapoor Khan.
Imran Khan is supposed to play an American return Bangalorean Tamil, but neither sounds nor looks the part. Yes, yes we know the logic, or lack of, factor in rom-coms but besides the word Appa, both parent actors break out more Tamil than Imran and he looks like the misfit more than the actor he calls a misfit in the film. The actor does score points as he lets loose the awkwardness in the latter part of the film but he struggles for the most part, especially in his focus shots. The Kareena Kapoor Khan title has a certain ring to it but her character lacks punch. Leading lady and noted actress no doubt, her trainer has worked her out well and she looks a million bucks.  Yet for all the hoopla about her 6 costumes and meaty role, you don't walk away loving her character or her for doing it. Standing around with papers in hand, pouting or haphazardly trying to continue construction work doesn't count when trying to show the strength of a character or conviction. Shame since her character could have given the story the necessary focus.
The two actors clearly are trying to make some sort of chemistry but nothing works. Even as they slip in the 'she's older' lines to explain Kareena looking like Imran's older sister than love interest, you don't feel the mushy love bug emotion when they flirt or bashfully smile at each other. Even as they separate, you feel indifferent and the reason falls back onto the writing. While the wittiness helped the light hearted moments, there wasn't much worthwhile in the story to root for them. And neither Manish Malhotra nor Salim-Sulaiman can help. The focus flutters from self analysis to society concerns to going the distance for love, without enough time or impact to make you feel this is important.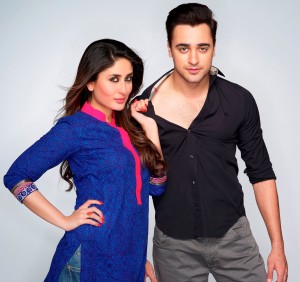 But what am I saying. This was always meant to be a love story. The social issues/family issues were simply a facade to cover a story known since Grandmother India. The editing that need to cut back the predictability, only worked for crisp scene alignment. The cinematography wasn't supposed to show things as they really were, just make a brown village have colour block moments to go along with funny moments everything else like a Karan Johar Production, vibrant and beautiful. Right up to an awkward stanced Imran, running in a vetti (southern style dhotti). Even Vishal Shekhar are right on cue with bringing to table everything the movie needed at the set intervals, whether it be a dance number, a romantic melody or a Gujarati folk song. No comments on the lyrics but 'Main Nahin Jaana' has your foot tapping, like it was meant to. Yet, none of it matters how the film had no depth and overshadows the direction. Not even the fact it connects with audience on an entertaining level as much as lotto numbers are. You simply are supposed to laugh at people and customs being ridiculed, imitate the latest fashions and then walk out thinking 'Next!'.
So take it as it is and you might enjoy Punit Malhotra mash up the first half of Mere Yaar Ki Shaadi Hai with a dash of southern stereotypes and Swades into an 'original' film. But then again, you might not. Either way, regardless if you will be able to turn off your thinking cap on the film, it leads back to the cliche but upgrades to stale wine in a bottle of Moët.