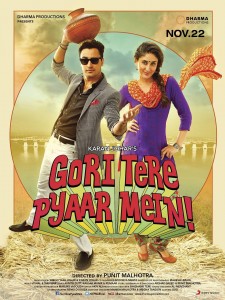 Gori Tere Pyaar Mein (GTPM) undeniably has big shoes to fill. It marks the return of not one but two winning combos from the house of Dharma Productions, Imran Khan and Punit Malholtra (I Hate Luv Storys) and Imran Khan and Kareena Kapoor (Ek Main Aur Ek Tu). Needless to say, expectations are running on overdrive.
Vishal Dadlani and Shekhar Ravjiani who previously scored for I Hate Luv Storys to great applause are at the helm of GTPM, creating yet another set of expectations to triumph over. The album consists of 9 tracks and features the vocal talents of Shankar Mahadevan ('Desi Girl' – Dostana), Shalmali Kholgade ('Pareshaan' – Ishaqzaade), Mamta Sharma ('Munni Badnaam' – Dabangg) and Mika Singh ('Dhinka Chinka' – Ready), Kamaal Khan ('Ishq Sufiaana' – The Dirty Picture), Neeti Mohan ('Ishq wala Love' – Student of the Year) and Sukwinder Singh (Matru Ki Bijlee Ka Mandola – Title Track) amongst others.
Dhat Teri Ki is a fashionably retro club/dance number. Ironically and undoubtedly unintendedly it can easily be seen as a pseudo fusion of the title tracks Ek Main Aur Ek Tu and I Hate Luv Storys. It is trendy, catchy and has all the makings of the next party anthem. The fresh energetic vocals of Aditi Singh Sharma and Sanam Puri make the track all the more appealing while the witty lyrics rife with clever innuendo are quite impressive. Arguably, the use of "kiss my a**' in the chorus line could be classed as being in bad taste and/or unnecessary by the lyrically nuanced listeners. Otherwise, Dhat Teri Ki definitely exhibits strong chartbuster qualities. DJ Rishab's remix of the track takes away from the retro influences, a winning quality of track, thus creating a track that is a shell of its former self, utterly unremarkable in other words.
Tooh just comes of as noisy and loud and after hearing the word 'tooh' for the millionth time, the track loses its appeal quickly, that is, if it had any to being with. There is nothing remarkable composition-wise and the vocals, albeit having seasoned vocalists (Shruti Pathak, Mamta Sharma and Mika Singh), are nothing to write home about. As for lyrics, there are only so many innuendos/puns of tooh that one can listen to.
Chingam Chabake, though formalistically mass-y, desi and loud, is delightfully witty and thoroughly enjoyable. Shankar Mahadevan and Shalmali Kholgade's energised rendition, the clever tongue-in-cheek lyrics and the enthusiastic orchestration distinguishes the track from Tooh which is crude and noisy in comparison. The Gujarati lyrics are also a welcome touch. Shankar is the body and soul of the track, enthusiastically rendering the tongue twister, ori choric chhichhori d chedhe humein chingam chabake, main bhi chhora chhichhora chipak jaaoon chumbak lagake, with perfect enunciation every time must be no easy feat. The remix of the track is astoundingly ill-composed and totally skip-worthy.
Dil Duffer is a sweet little track by Nitesh Kadam and Shruthi Pathak. It is easy on the ears and the music is mainly contemporary with a nice desi/traditional interlude in the second half. Lyrics are simple yet effective with a casual conversational appeal. Nitesh and Shruthi's fresh vocals compliment each other well and make the track worth your while.
Naina is undoubtedly the best track of the album. It is a brilliant combination of flawless vocals (Kamaal Khan and Neeti Mohan), beautiful orchestration, and well penned lyrics. The endearingly strong presence of dhols (Think 'Jag Soona Soona' from Om Shanti Om without the melancholia) resonates beautifully. The track has a subtle sufi-esque touch to it which is quietly elevating and Neeti's contemporary interlude against the guitars is a sweet little departure completes the track with finesse.
Moto Ghotalo is a cute folksy number sung by Sukwinder Singh who tends to have a well-defined knack for such numbers. The foot-tapping music with the Gujarati lyrics and over tunes has you swaying to it in no time. Lyrics are beautifully penned and even more beautifully vocalised by Sukwinder.  
Gori Tere Pyaar Mein Mash-Up by Kiran Kamath is an ill-arranged track bordering on grotesque. Kamath is arguably losing his winning touch witnessed previously in Student of the Year mash up and the Tapori mash up. His Chennai Express mash up should have been indicative of a downtown spiral has that one was not overly impressive either.
In summary, GTPM is more or less complete entertainer from Vishal-Shekhar, once you ditch the gaudy remixes and the ugly mash of course. It followed up a loud and race-y start (Dhat Teri Ki, Tooh and Chingham Chabake) with melodious and softer numbers (Moto Ghotalo, Naina and Dil Duffer). In doing so, Vishal-Shekhar utilised a wide range of musical genres and catered for a wide spectrum of listeners. Naina, Chingham Chabake and Dhat Teri Ki are the top achievers with Moto Ghotalo and Dil Duffer being close runner ups. Tooh falls short when compared with Dhat Teri and Chingham Chabake but a fun and engaging picturisation may be its redeeming quality. Also, apart of Tooh, the tracks featured impressive lyrics (Anvita Dutt Guptan, Kumaar and Kausar Munir). In short, GTPM is one of the better albums to end the year with. Go for it!