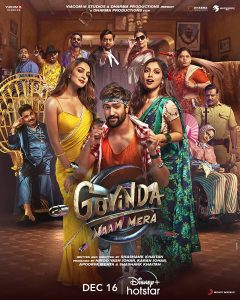 Govinda Naam Mera(Disney+Hotstar)
Staring: Vicky Kaushal, Kiara Advani, Bhumi Pednekar
Director: Shashank Khaitan
Just for the pleasure of watching Vicky Kaushal and Kiara Advani play a couple of losers, Govinda Naam Mera is worth a dekko. Writer-director Shashank Khaitan displays a funnybone even when the writing gets overly zonked-out. There is an inherent sense of fun intended in the naggingly crazy goings-on that make us laugh out loud even when we don't want to.
Kaushal and Advani are a riot as a couple of struggling choreographers . One of the high points in the comedy is the trashy song Pappi jhappi where Kaushal and Kiara just let themselves go. It is meant to be an awful song, sung by a doped out zero-talent son of a politician . Hats off to the Meet Bros for composing an appropriately awful song . Most artistes when asked to project mediocrity can't get it right. They don't know how to stop being mediocre long enough to portray it.
As a film about born losers Govinda Naam Mera gets it right most of the time except when the plot seems over-stuffed with incidents. There was no need to pull out all the over-the-top buoyancy all at once just to keep the proceedings non-stop perky.
Relax. It's okay to breathe once in a while. We aren't going anywhere, although the characters are constantly in a hurry. There are no "normal" characters here. Everyone shrieks to be heard. Bhumi Pednekar the hardest. She seems to have optimum fun playing the abusive wife, bullying Vicky Kaushal, laughing at his dancing. Can't blame her. Kaushal's dancing is really funny. And I don't think it's intentional. Every actor gets the point.
Renuka Shahane as an imposter on a wheelchair lets herself go as never before. I am not sure if that's a good thing or not.
Writing a film as zany as this cannot be easy. Shashank Khaitan decided to have fun with his actors who in turn decided to have fun with their characters. Whether we plunge into this relentless raga of revelry or not depends entirely on how willing we are to surrender to the madness.
Those who are in it for unquestioning fun, this film delivers. For those who watch films for serious mayhem, wait for the next Anurag Kashyap film.