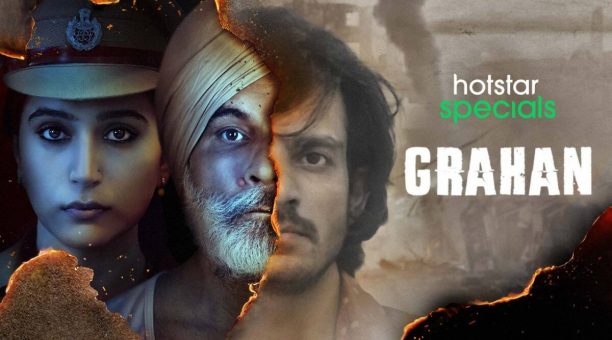 Grahan(Disney-Hotstar, 8 episodes)
Starring Pawan Malhotra,Zoya Hussain,Anshuman Pushkar, Wamiqua Gabbi
Directed by Ranjan Chandel
I was a shocked teenager when the 1984 genocide wiped away thousands of Sikhs. Well- known politicians and even politically motivated celebrities from the entertainment world provoked and incited the mobs to go out and take revenge against an entire community for their beloved prime minister's assassination.
I haven't forgotten the dance of death that started on the night of October 31 and continued till my birthday on November 2. Quality conscious producer Ajay Rai(who has invested in many a significant cinematic project from the Marathi masterpiece Kill in 2014 to the most recent achievement Fire In The Mountains) opens up the wounds of the 1984 genocide, wounds that never healed, wrongs that were never righted.
Directed by Ranjan Chandel, the 8 episodes have a certain consistent momentum in the storytelling, and though it moves through two time zones, actually three, the plot never becomes a jumble of unnerving frisky jumpcuts , as serials about multi -time passages tend to.
The story is pronouncedly dramatic. And that's how it should be, considering the improbable brutality of what transpired on those 3 fateful nights when Sikhs were pulled out of their homes and burnt alive. Bokaro was one of the cities that was most harshly affected by the genocide. This is where Grahan is set. Shot on location, Kamaljeet Negi's cinematography captures that frozen-in-time quality of those small North Indian towns which have never grown up.
The opening in the 1990s , when an investigative journalist with incriminating evidence on the 1984 carange against a prominent politician of the town is hunted down by two goons, will immediately capture your attention. The audience is made privy to an intense probe to bring the culprits of the 1984 riots to book(if only wishes were horses…) wherein a young plucky female police officer Amrita Singh(Zoya Hussain) discovers that the father she hero-worships was present at the looting and arson in Bokaro in 1984.
If the truth be told, Grahan is not Amrita's story. Sure, she is omnipresent and Zoya Hussain plays her with a grit that provides an inner strength to the story. But this is not Amrita's story. It is her father Gurusevak Singh's story. His past and how deeply it colours his daughter's present and future is the raw material on which the series builds its emotionally simmering edifice.
In the role of the troubled turbaned time traveler, Pawan Malhotra again reminds us he is one of Indian cinema's most brilliant, underrated and underused actors. Watch him in the courtroom finale where he speaks up finally, but mostly through his eyes which convey an eternity of pain.Standing frail but tall, this aging man becomes the living embodiment of and abiding testimony to all the wrongs that the whole community suffered. This is an actor on a par with the world's finest acting talent.I wonder what Grahan would have been without Malhotra!
Anshuman Pushkar who plays the young version of Pawan Malhotra's character is a talent to watch. To the role of the ardent suitor and timeless lover,Pushkar imparts a sense of classic Gabriel Garcia Marques vibes during the time of riots and barbarism. This young actor has arguably the best cinematic voice since Amitabh Bachchan.Wamiqa Gabbi as Pushkar/Malhotra's object of adoration fails to strike the right notes, though she does convey a lot of the required alharpan.Her embrace with Anshuman Pushkar on an eerily empty railway platform is a classic moment of love not equaled by the rest of the series.
The rest of the actors do not really have fleshed our roles. Or maybe their impact is diminished by Malhotra's towering performance.
Tall and emotional, the story moves into fitful flashbacks before travelling back to land in the present with a comfortable thud. I am not surprised to know that Grahan is based on a literary work—Satya Vyas' novel Chaurasi. There is such a rich literary heritage in our country, now being discovered for the digital domain by enterprising producers like Ajay Rai and Sameer Nair.