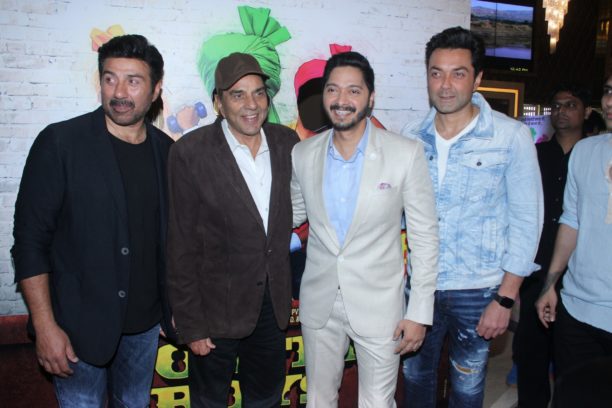 It was quite an afternoon full of quirky fun as our Bollywood Poster Boys aka Sunny Deol, Bobby Deol and Shreyas Talpade launched the trailer of their light hearted drama Poster Boys! Also in attendance was Dharmendra who gave his blessing to the film.
Poster Boys is a remake of the Marathi film which was a winner at the box office and was one of the biggest openers of Marathi cinema in 2014. The original film was produced by Shreyas Talpade in which he also had powerful cameo and now with this film he makes his directorial debut.
The trailer was such a hit at the launch that there were calls for it to be played again! If that was not all, Dharmendra loved it so much he said Shreyas should start working on Poster Boys Part 2. "I had heard that the Marathi film was a big hit. But after watching this trailer, I can say that this will be a bigger hit than the original. I think 'Poster Boys 2' should also come out. Shreyas should start working on a sequel."
Talking about his role in the film Sunny said, "The script is very interesting and when it's a great idea, the actor just wants to grab it. It gave me an opportunity to do something which I wouldn't have done otherwise."
Bobby said, "When I heard the script from Shreyas I was very excited. I just want to do films which I enjoy doing and the audience will too like it watching." The actor did have to prep for his role as a Hindi teacher, "I got scared when I was told I have to speak in shuddh Hindi. It was a challenge, and that was the interesting bit about the character. Shreyas and I did a lot of workshops, and I can say it was difficult, but it was fun and exciting."
The movie revolves around 3 men – the docile Vinay Sharma (Bobby Deol), the over enthusiastic Arjun Singh (Shreyas Talpade) and the explosive Jaagavar Chaudhary (Sunny Deol), to their surprise , find their pictures on a poster promoting vasectomy (Nasbandhi) and how this mistake turns their entire lives upside down. Ridiculed by their families and village alike the Poster Boys set out to take on the system which leads them on a crazy journey that no one could have foreseen. Inspired by a real life incident this mad caper is sure to keep you in splits! C
Poster Boys is scheduled to be released on 8 September 2017.