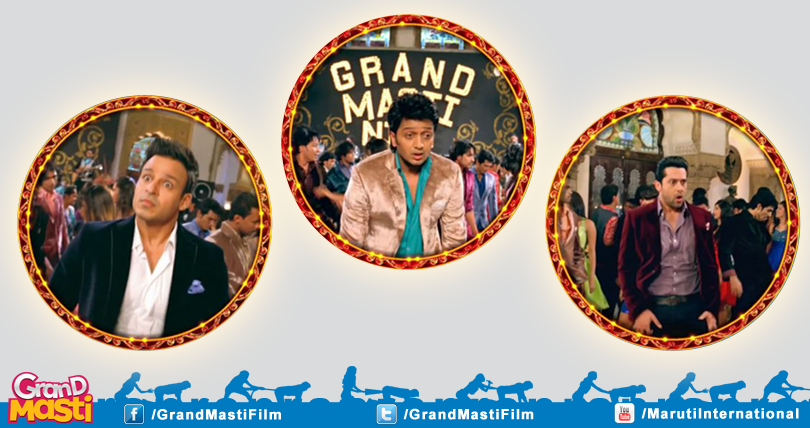 A quick recap: in 2004 Inder Kumar (Dil, Beta) directed Masti, starring Vivek Oberoi, Ritesh Deshmukh and Aftab Shivdasani. It had some comic moments, a good soundtrack and spawned a series of similar comedies based around the '3 lead actors being unfaithful' formula (Shaadi No.1, Thank You). Nearly a decade later, we have a follow on film named Grand Masti which promises to be an entertaining 'adult' comedy. Does it live up to the expectations? Is it as good as the original? Read on to find out.
The story in a nutshell is about three married friends who are invited back for a college reunion. They get involved with 3 desirable girls, sing, dance and get into a whole heap of trouble when their wives find out. Essentially Grand Masti is the same theme, with the same lead cast, but it is not really a sequel in the true sense of it. Neither does it have as good soundtrack as the original, or a good twist and turn (death of Lara Dutta), which set the first Masti apart.
On the acting front Aftab, who has not been seen for a while, plays it like he does in the original.  Ritesh is well seasoned in this genre (Kya Kool Hai Hum) and is comfortable doing so. Vivek is clearly trying to make an impression to revive his career and his efforts come across sincerely. The female characters are there not to act, but to simply walk around in minimal clothing and entice the men in provocative ways.
In our view, this is definitely not a 'family' film. Nor is it a 'date movie'. You could call it a 'lads' film, but to be honest with the double-meaning language, unsubtle sexual references and crude comic scenes, most modern men would (read should!) feel that the treatment of the subject is quite derogatory to women and tasteless. Which begs the question: which segment of the audience is this film for?
India has not quite grasped the sex-comedy genre as yet. The genre was firmly planted in the U.S with the successful American Pie series, but the crucial ingredient missing here is the youth! Can you really have thirty plus actors realistically playing these types of roles? Moreover, you need a level of intelligence with the script, dialogue and scenes to make a good sex-comedy really work – an ingredient Grand Masti lacks. Whilst Masti was fun, Grand Masti is simply not.
With a spate of films out currently and coming up, Grand Masti is one you could probably do with giving a miss. As for Vivek Oberoi, you are better off waiting for Krrish 3, to see him again.