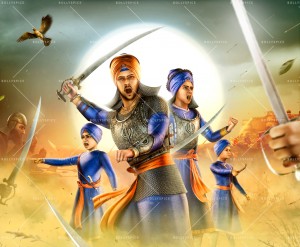 After Rajinikanth's Kochadaiiyan, filmmaker Harry Baweja is attempting to come up with performance capture photo realistic film called Chaar Sahibzaade. The film is slated to release on the 6th of November, on the even of Guru Nanak Jayanti.
The filmmaker says, "This film is my petition towards Waheguru from me," before you seem perplexed Baweja explains, "We always pray to God for some thing or the other, and once its completed we go to temples or gurudwaras and give our thanks and show our gratitude towards God but merely going to temples is not always enough. Sometimes you gratitude needs a more profound expression, you feel the need to find a better way to give your thanks to him. I personally have got loads of things from my Waheguru, whatever I have wished for, I have received more than that, so Chaar Sahibzaade is my act of devotion towards my Waheguru. Maybe others have different ways of expressing themselves, I am a filmmaker and I have tried to present my talent, my art and my craft to Waheguru in the form of Chaar Sahibzaade."
Chaar Sahibzaade is a story of last guru Shri Guru Govind Singh's four sons Ajit Singh, Juzhaar Singh, Joravar Singh and Fateh Singh's sacrifice towards the establishment of their religion. Chaar Sahibzaade is directed by Harry Baweja. The film will be presented in 3 languages, Hindi, English and Punjabi. Also in 3D and 2D.