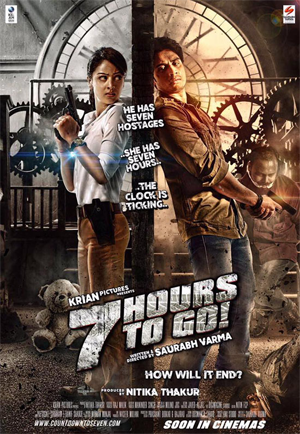 Filmmaker Saurabh Varma is all geared up for his upcoming movie 7 Hours To Go starring Shiv Pandit, Sandeepa Dhar, Natasa Stankovic and Varun Badola. The movie is slated to release on June 24. Saurabh Varma agrees to the fact that unlike his last movie Vicky Donor he doesn't have a popular star backing the film like John Abraham or even a successful writer-director-producer Anand L Rai who took Nil Baatey Sannata to the silver screen but what he does have is a story which is different and inspired by real life events.
"You can't underestimate the power of a star but Bollywood A-listers only work with a limited set of filmmakers. Directors like me have to prove ourselves to get access to the stars." Said Saurabh. He also said that his actors aren't supposed to be taken lightly, 7 Hours To Go is made by a group of underdogs and underestimated actors.
7 Hours To Go was shot in a crisp schedule of 40 days, the movie revolves around a hostage crisis inspired by a few real life events compiled into one hard-hitting story. Saurabh nods with a smile as he says that he is aware that the plot of the movie sounds a lot like the series, 24, where events unfold in real time but he has taken to the old style of storytelling to give audience a treat to watch. The parallels drawn to the series 24 makes him happy he says.
The director explains." I've drawn from real life, from people I have seen in local trains and those waiting for autos. The last time a film addressed a hostage situation like it should be was Ram Madhvani's Neerja."
For the first time in Bollywood a film has employed over 650 VFX Shots, all of which were executed in a span of 6 months, and a drone. "There is a camera capturing the drone and a lot of special techniques have been used in the action. I'd tell you what they are but then I'd have to kill you." He laughs.
Saurabh is already working on his next film, which is an ambitious sci-fi thriller. The movie is a work in progress on the graphics front with a VFX team. The director says that the script is the kind which can be proposed to an A-lister provided they are up for a story which is different than the usual and better than the rest. It's a script that's going to make all the difference!
Directed by Saurabh Varma and produced by Nitika Thakur, 7 Hours To Go stars Shiv Pandit, Sandeepa Dhar, Natasa Stankovic and Varun Badola. The film is releasing on June 24th, 2016.