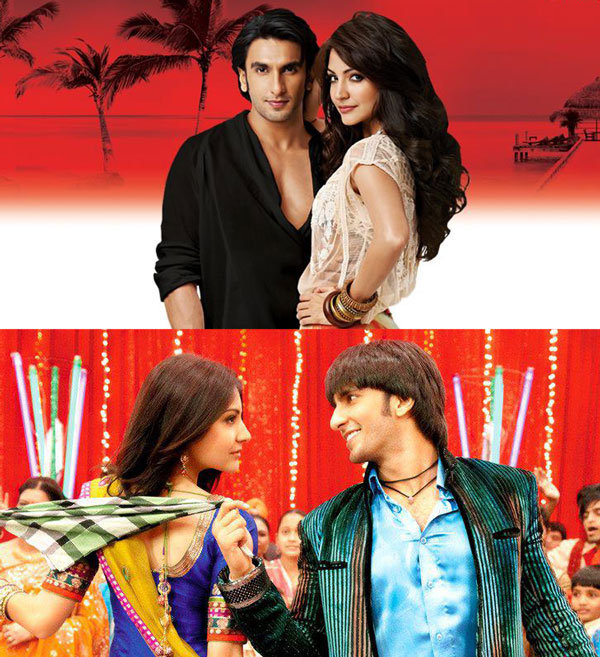 "Kuch paane ke liye kuch khona padta hai aur haar kar jeetne waale ko Baazigar kehte hai!" The line that helped the 1993 thriller flick Baazigar acclaim a lot of awards doesn't seem to do the same trick for the 2011 rom-com Ladies vs Ricky Bahl.
Ladies vs Ricky Bahl is the story of three ladies who in their own scheme of things plot to give a smart con-man – whom they christen Bloody Kameena! – Ranveer Singh a dose of his own medicine. Ricky Bahl a.k.a Sunny Singh a.k.a  Iqbal khan a.k.a Deven Shah amongst  his other varied avatars dupes Dimple Chaddha (Parineeti Chopra), Raina Parulekar (Dipannita Sharma) and Saira Rashid (Aditi Sharma) in a bid to swindle lakhs of rupees from them leaving behind a rage to settle their score with him. The payback is when the trio plans to plant a con artist Ishika Desai (Anushka Sharma), a Hometown sales girl, as the only daughter of a real estate tycoon in the US of A.
The first half of the movie is more interesting and engaging what with the screenplay being full of the schemes that our Aadat se Majboor guy adopts to con the different ladies. However the second half seems to drag a bit although it does manage to pick up its pace at the end. Though for the audience the way the three ladies carry out their plan may seem a bit too easy to be real, their chemistry and sheer display of girl power is enough for you to gloss over this fact. Also, the movie loses itself in its narration partly because of its songs which can be easily forgotten and its slow pace. A con-man based movie can be really enthralling to the audience provided it has the right element of surprise in its script. Salim Sulaiman's music is ordinary with just one catchy tune for 'Aadat se Majboor' which goes well with Ricky Bahl's image.
As far as the performances are concerned, director Maneesh Sharma in his attempt to recreate the magic of Band Baaja Baarat has given a lot of footage and room to Ranveer Singh – who gets enough screen space to flaunt his well-toned body and abs. After a splendid performance in Band Baaja…, Ranveer  does a fairly good job in playing a con-man who dupes women for a living. Anushka Sharma who has a major part of her role only in the second half has definitely kept up to her expertise of playing the bubbly, bindas and chirpy character but somehow you feel that she didn't have anything new to offer which leaves you a tad disappointed with her. Also the movie loses out on the on screen chemistry that Band Baaja… had between Ranveer Singh and Anushka Sharma. And herein lies the biggest problem. The spark which was visible between Bittu and Shruti is missing between Ricky and Ishika. True, it would be unfair to compare the two movies, but when a team has managed to deliver a successful movie, expectations are bound to occur.
It's good though that the three conned ladies get good share of screen time. Parineeti Chopra plays a foolhardy rich Delhi girl who is candid enough in the movie to tickle your funny bones with the endearing dialogues that Habib Faisal has in store for us. Dipannita Sharma aptly plays a head strong and a no-nonsense interior decoration executive for a multinational company who has very convenient contacts in every nook and corner of the world including designer boutique owners to cellular company executives ready to share sensitive clientele data so that the trio can track down Mr. Bloody Kameena. Aditi is endearing though her character is the meekest and soft spoken of the all. If truth be told, of the three ladies, Yash Raj Films find Parineeti manages to score over the two.
In spite of having a very predictable story line with a relatively sluggish script written by Devika Bhagat, Ladies vs Ricky Bahl is definitely a watchable film and a reasonable entertainer with a  little bit of disappointment.