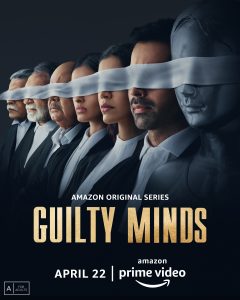 Guilty Minds(Amazon Prime Video; 10 Episodes)
Created & Directed by Shefali Bhushan; Co-directed by Jayant Digambar Samalkar
It is not as if this series blows your mind off with its legal wisdom. Nor is it only about getting the courtroom sequences right. Both in place, Guilty Minds sets out to score points for being able to hijack our attention for ten episodes. Not all of it is equally engrossing. But the storytelling even when faltering and fumbling to cram in too many social issues(including an utterly unnecessary child-abuse end-game) never ceases to be compelling.
Primarily, Guilty Minds works because it doesn't try to penetrate too far into the minds of the perpetrators. It is all done on the surface level, but with immense care and concentration, so that an impression of focused narration and uninterrupted tension is created even when the plot meanders into the characters' personal lives which we are not really interested in.
To cite one instance of overstatement, why did we need Sugandha Garg's lawyer-character's sexual orientation to be part of the over-crowded narrative? We are interested in what she does in the courtroom, not in her activities in the bedroom. Likewise the love-hate relationship between the protagonists Kashaf Quaze and Deepak Rana, played with passable panache by Shriya Pilgaonkar and Varun Mitra(the latter clearly lacking the sophistication that his character aspires to) is like over-juicing the goings-on.
Namrata Sheth as Deepak Rana's wide-eyed seductive assistant Shubangi Khanna is appealing in her combination of innocence and stealth. She is quite the scenestealer in a series where no actor seems too keen to out-score.
The interpersonal relationships are nominally interesting when they least try to be so. The way a nosy journalist(Diksha Juneja) uses her lawyer-boyfriend(Pranay Pachauri) , the heir apparent of a posh law-firm, to glean information about confidential cases, seems more a convenient plot point than an organic necessity.
The tendency to lay it on thick gets in the way of the otherwise-researched impressively cast narrative. Each episode is self-contained and hence skip-watching is out of the question. I particularly liked the first and fourth episodes about the casting couch and music plagiarism, probably because I know these characters.
In Episode 1 Karishma Tanna plays an abused actress who digs up dirt from a award-winning director's past and ensures his downfall. Although I found the resolution of a tangled problem facile,the episode survived the onslaught of fake accents and irrelevant optimism: directors in Hindi cinema don't get prosecuted for sleeping with heroines.
Episode 4 on the ongoing debate on plagiarism in Hindi film music relies on its solid research base—there is even a reference to composer Ram Sampat taking filmmaker Rakesh Roshan to court over copyright infringement. Shakti Kapoor as a staunchly original music composer lets the episode acquire wings , sadly clipped in some other stories, like the one on 'Taisty Cola' using up all the water resources in a village for its factory(didn't work for me) or an app called Alola being taken to court for taking clients for a ride(didn't work).
In Episode 2, a child becoming unduly influenced by a video game into resorting to murder and in Episode 5 a feisty Bihari unwed mother suing the hell out of her employers for sacking her , were interesting and packed with saucy innuendos. Some episodes like the one about an intelligence officer unearthing a government racket getting murdered or the one about on the an IVF mother suing the fertility company which helped her with her pregnancy, just don't add up, nor come to a satisfying culmination.
Even when unfinished , the stories hold our attention.They convey a ring of truth even in their ,most flaccid moments. The climax has Satish Kaushik and Veerendra Saxena running through the forest chasing down a 15-year old boy who has seen them commit a crime.Time to rest the case.
Some of the incidental dialogues are unintentionally funny. When the over-weening journalist addresses a woman in khaki as a lady, the "lady" barks back, "Madame, Lady nahin hoon constable hoon."
After the same journalist has some wild sex with her boyfriend he asks, "Slow enough for you?"
Luckily for us, it is the other way around.