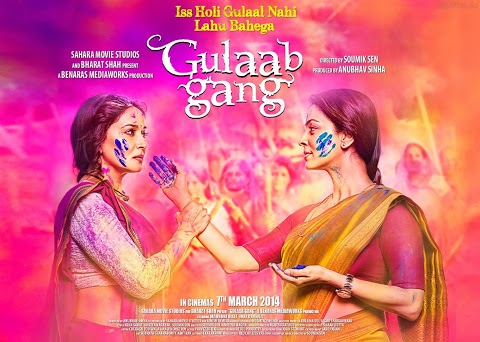 Gulaab Gang will see two legends of Indian Cinema coming together in this female oriented film. Starring Madhuri Dixit Nene and Juhi Chawla in the leading roles, the film is based on a group of women in rural India who fight against social injustice. Gulaab Gang will see Madhuri as the lead and Juhi as the antagonist, which makes the film all the more tempting to watch. Directed by Soumik Sen, it is scheduled for release on 7 March 2014. The music to Gulaab Gang has also been composed by Soumik Sen and has also written the lyrics for the song 'Teri Jai Ho.' Other lyricists who have also contributed to the album include Shreya Narayan and Neha Saraf. So does the music to Gulaab Gang work? Read onto find out our verdict!
First up is Gulaabi, which has been sung by Malabika Brahma and Shilpa Rao. The song contains a blend of Indian and soft rock compositions, aimed at giving a strong feminist feel to it. To some extent, the song works and the vocals have also been well delivered. However, having listened to it in full; it is not a song which can be listened to over and over again. Hence; you will eventually get bored of it and if anything; it has been composed due to the theme of the film.
Next up is Dheemi Dheemi Si, sung by Kaushiki Chakraborty and Malabika Brahma. The song kicks off to a dull start but eventually it picks up very well. I very much enjoyed the vocals by both singers, which gives a rural feel to it. The music has also been respectably composed and complements well with the vocals. In short, do check this one out!
Following this, we have Sharm Laaj, which has been performed by Malabika Brahma and Pavni Pandey. I do like parts of this song which are indeed catchy. Yet I found it to be an average song which will have a short life on your playlist. It's a shame as this song definitely had the potential to be one of the highlights of the album!
Aankahiyaan is next and is sung by Kaushiki Chakraborty. Although I have no qualms with regards to Kaushiki's vocals, the song itself was boring to listen to. I found nothing appealing about it and it just made me want to take a nap during four minute duration. Therefore, give it a miss as there is nothing special about it.
We also have Rang Se Hui, which has been performed by Kaushiki Chakraborty. This one is definitely the highlight of the album. The music, lyrics and vocals are delightful and work very well together in this particular song. I especially liked the use of the tabla, which gives it that Indian touch. Overall, I enjoyed it and recommend that you give it a listen as it has a strong appeal to it.
Rang Saari Gulaabi is next and has been sung by Madhuri Dixit Nene, Snehalatha Dikshit and Anupama Raag. The song contains the use of instruments such as the harmonium and the shehnai that have been executed quite well. Yet I found the song to be mediocre and lacking in appeal. Having said this, praise is due to Madhuri Dixit Nene for being brave enough to lend her voice for this song.
Finally we have Teri Jai Ho and has been sung by Soumik Sen. I liked the use of the guitar in this song, which gives it a smooth touch. Soumik also sings with passion, which makes the song enjoyable to listen to. This is definitely another highlight of the album and I recommend that you give it a try. Thankfully, the album ends on a high with this song!
To sum up, I was very disappointed with the soundtrack to Gulaab Gang. With the exception of 'Rang Se Hui' and 'Teri Jai Ho,' the rest of the songs just do not have a strong musical quality to them that will make you want to listen to them ever again. This is a shame given that there is so much buzz surround this film. Let's hope that the film is more of a triumph which it releases on 7 March 2014!