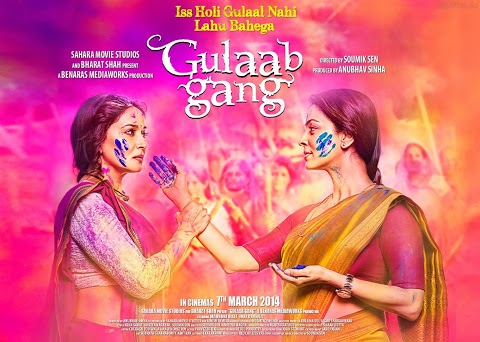 Madhuri and Juhi and Bollywood fans you can stop crying into your pillows because the release of Gulaab Gang is back on and will hit theaters on March 7th!
The Delhi High Court lifted the ban that was going to keep the highly anticipated film away from theaters until May 8th! The complaint was lodged by Sampat Pal saying that the film would harm here reputation. The earlier judgement was reversed and the film will release but will have a disclaimer that says it is not based on Sampat Pal's life.
Producer Anubhav Sinha said in interview, "The similarity ends at the title of the film and the name of the gang. Our film is about a woman who fights for her rights, and has to oppose another woman, a politician, who is played by Juhi Chawla. Why should I ask for permission for something I am not doing?"
So get ready for Madhuri Dixit and Juhi Chawla bring two powerhouse performances to the silver screen!
Stay tuned coming up we have an exclusive interview with director Soumik Sen on all things Gulaab Gang!