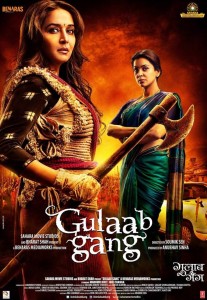 Soumik Sen's Gulaab Gang, which will see Bollywood heavyweights Madhuri Dixit Nene and Juhi Chawla together on screen for the first time, could possibly have its release date postponed. Initially scheduled to come out this Friday (ahead of International Women's Day), the High Court in Delhi has stayed the release of the film until May 8, upon the request of Sampat Pal.
Sampat Pal is famous for forming a clan of pink saree wearing female activists called Gulabi Gang in Uttar Pradesh. Justice Sanjeev Sachdeva said the film could possibly damage her reputation, despite director Soumik Sen and producer Anubhav Sinha insisting that the film is not based on her life. "Reputation once lost is lost forever and cannot come back and can't even be compensated in monetary terms," said Sachdeva.
Pal has claimed that no one came to her to acquire her permission for the film to be made. In addition, she claims that the film contains defamatory content which could permanently damage her reputation.
At the time of publication of this article the international release was not effected by this ruling.
We will bring you further updates on this latest news as and when we receive it!