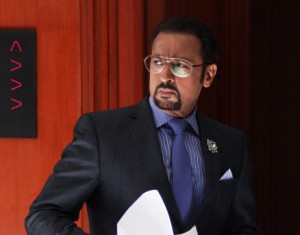 He is known as the Bad Man of Bollywood but in his upcoming film Gulshan Grover got to play the bad guy in what he says is a evolution of the villain to the next level in the movies. In Bullett Raja, you will see him as a powerful and subtle villain that battles Saif Ali Khan in this Tigmanshu Dhulia directed action romance. I had a wonderful conversation with Mr. Grover and he gave a very cool perspective on working on Bullett Raja including starring opposite Saif Ali Khan and Sonakshi Sinha and what he thinks are the best things about the highly anticipated film.
How do you decide which films you want to do?
The thing is I decide based on a few elements. It is the role mostly but in many cases it is the director and in many cases it is the co-stars. When I did Bullett Raja, the first thing that came to my mind was my co-star Saif. I tell you Saif Ali is at an amazing stage of his life. He has a certain mental decision where he has become an interesting actor to have as an adversary, as an opponent in the movie. Because, when he comes on set his body language tells you that he is not going to make compromises and he is going to throw his best and the challenge and the onus is on you. I've worked with before and I see him now far more determined, far more clear, and far more positively aggressive. I like that. I have worked with so many people, I have done so many films and I am very, very fully charged and I love actors who are giving their hundred percent. Saif was so determined so that was one reason to work on this film.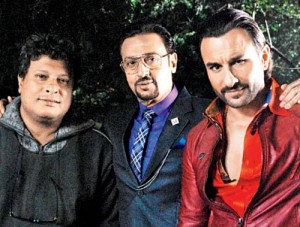 Second was the writer/director of the film, Tigmanshu Dhulia, you know, he is a very, very interesting combination of someone who is bringing the cinema to the next level and at the same time keeping it entertaining. He writes very powerful scenes, very powerful dialogs, but in this film and I said this to Sonakshi, he has taken the Bollywood heroine from a 'Sati Savitri' to a certain kind of progress. A certain kind of evolution. Where in the other films they are getting bolder by their clothes being shorter, and by their cleavage being deeper, and by their pelvic thrusts being…. but this writer has made this character bold, the leading lady of the film which is played by Sonakshi, is bold but she is bold in intent. She is bold in handling this world and handling this relationship between the villain, that is me, and Sonakshi's actress heroine. Sonakshi brings in a very different kind of a heroine on screen in Bullett Raja. She is beautiful, she is wholesome, but she's not overtly sexy and that makes the whole character of the heroine that she plays in a completely different category and completely different take on the heroine – this one is actually a very rich character and very bold. I mean her heroine's introduction is after having agreed to a naughty interation with this stylish, good-looking, worldly, powerful person, not a lecherous guy, but a respecting guy, because it will further her career – she is a struggling actress. She plays it very differently. And because Sonakshi was doing it the scenes didn't look cheap. It didn't look like she's a slut and she can use any man and she can sleep around and get her way through, you know? So those were the wonderful things because of her acting ability and her complete persona. It really is a coming of age of a Bollywood heroine.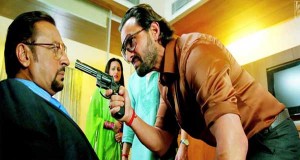 The director who is a brilliant writer as well is taking the presentation of a heroine to the next level has also taken the presentation of a villain, the main villain that I play, to the next level where I don't have to have the dangerous looking wigs and dangerous looking gestures and I don't have to kill anybody. It is my power; it is my might that is the essence of this villain. I am the most powerful man of that place and I'm wealthy, I'm stylish, I'm trendy, I'm arrogant and I run governments and these small, rising up, little, tiny criminals like Bullett Raja and his friend… What are they in front of me? Nothing! That is what makes the problem and things become very complicated. It is a very interesting film and these are the reasons I decided to do Bullett Raja. I am happy I did it.
It must have been cool to get into that kind of character, so how do you create and decide how you are going to play him?
It's a combination of the writing and what the director wants and how the actor sees it. Even if in the end it's a combination of everything or eventually it is the director's vision. With me it is always, in the end, how the director wants it. In this film we all gave into the director that 'Okay this is how you want it – okay we are with you'. At least I did that way. I do prepare my character. I work on smaller little details. I worked on that he is a worldly, trendy guy of a medium size town, not of London or Los Angeles or Bombay. He would be dressed in a certain way; he would speak in a certain way and have a certain kind of small town arrogance of running the government and of being the wealthiest. So all these details and small nuances, the psyche of the character I work on and obviously it is in consultation with the director.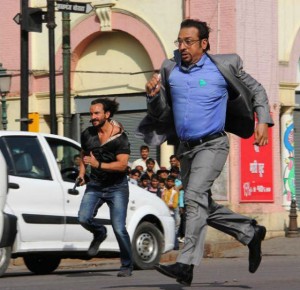 As you said Saif came on 100% ready to go, it must be great to battle Saif as the villain character on screen.
It is! It is! It is very, very good to play opposite him. He gets out of his car or he walks in on the set and it tells you he has had a look at the scene he's not stopping at anything, he will do his best. He is not looking at anything else but throwing a challenge be it the final details in the scene be it if he is doing an action scene I like that.
I was just reading about a scene you shot with Saif chasing you, can you tell us about that?
That's right! Well, we were suppose to shoot a scene in the busiest street of Lucknow where there are cars, people, the traffic never stops. And the director said you guys are going to run here. Saif is chasing me with a pistol in his hand. The very fact that he has a pistol that means I must not be in range of being shot, but at the same time be visible in the frame. Saif said to me if you see those shots in the trailer they did a bit of cheating, they show it as if he is running for the police officer Vidyut. Those shots of him are of him running after me. So he came up to me and he said 'Sir, I am going to run very fast'. So I looked at him and said, 'Saif, my friend, give it your best. You run as fast as you want because it is about the movie and not about a personal thing.' I said, 'You run as fast as you can and let's see what happens'. I take pride in this fact that after we finished filming he came up to me and said 'Sir you are very fit! You are very fit. You are the fittest senior I've worked with'. (You can hear the smile) He hugged me a million times. He met me again in the lobby of the hotel and after finishing I was going to the gym and he said 'Sir, that's why you are fit. You are going to the gym now'. (Laughs) So after a day of hard work, Saif and I would again bump into each other at the gym.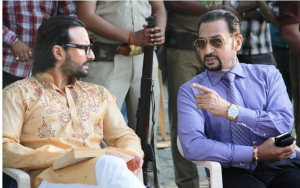 What do you think is one of the best things about the movie that audiences will love?
Somehow people think it is an action film and I think this film has very beautiful romance. My favorite scenes are the romantic scenes between Saif and Sonakshi. It is an unusual romance. It is a romance where the romance is with a person with rough edges-who's persona is rough and with a girl who is shy, sweet, middle class, fighting her circumstances and fighting the reality of this that she needs success. These are very beautiful, nice scenes, it is a beautiful romance. She is not scared to take chances she feels there is a good guy in him. She gets drawn to him and he is scared and his friend is scared that 'you will get us into a mess'. But she says I being a woman I am not scared but you guys claim to be such macho tough guys and you are f***ing scared! (Laughs)
That's my favorite in the movie. Whereas, the trailer what they have done has guns and bullets and this – that. So, I think it is going to be an interesting combination of everything.
How do you think the villain in Hindi films has changed over the years?
I think writers, directors try and get the villain to be what's in the society. So my character of Bajaj sahab is going to be an absolute example of that because Bajaj sahab is not the regular villain with the regular frills and regular drama of villain. He is presented more like it is somebody you will see in real life, that you would see in society. So I think that is how the villain has evolved. In real life the difference between the hero and the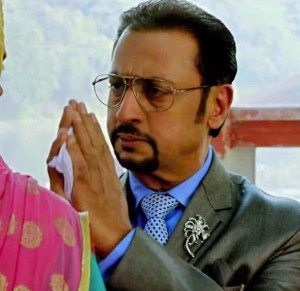 villain is submerged. It's become just a little waterline, you know. For some somebody is a hero, for some someone is a villain. Because the wealthiest man who has sponsored something or who's party we are at he could be a villain you know for having stolen from the common man or done something so but he's got respectability. He is the sponsor of the event. So that's how the villain has changed and that is how it is changing, at least in our film.
What do you think of Hindi cinema today?
Well Hindi cinema is winning more hearts, crossing more boundaries, reaching out to more people. We want to seduce more and more hearts with films from our Hindi cinema.
What will see you in next?
After this I will be seen in Yaariyaan. This film is produced by T-series and is directed by T-series owner's wife Divya Kumar. Divya Kumar is Gulshan Kumar's wife. I play a veryyyy good guy. This is a young youthful film and I play the head of the educational institution college principal who bring certain motivation and talent and drive to these youngsters. We'll talk about that movie later; right now it is all about Bullett Raja.
It was a real pleasure to speak with Mr. Grover and I look forward to talking with him again! Be sure to go see Bullett Raja when it hits theaters on Thursday in the US and Friday the world over!