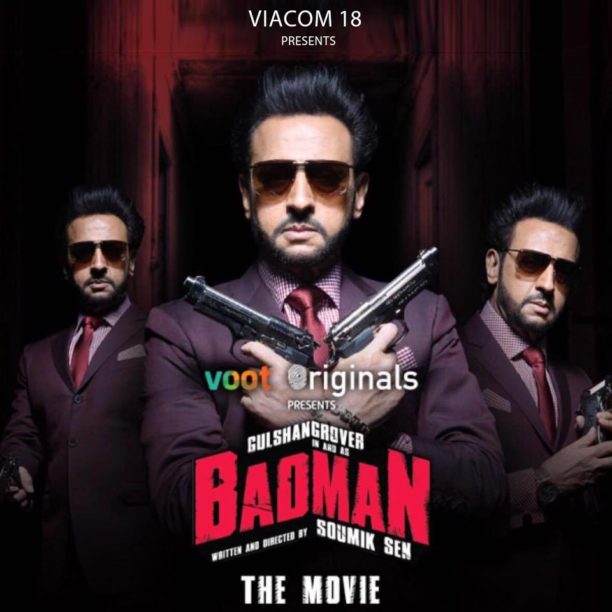 Gulshan Grover is one of the most respected actors in Hindi films. Since 1980, he has thrilled audiences with his characterizations and is known for his outstanding performances in villain roles. In fact, if you mention his name, most likely you will hear him called 'Badman'. His new film, called Badman, done in a mokumentary style, has the actor playing himself in a very interesting tale. Directed by Soumik Sen, Badman is a mad, comic caper, that sees Gulshan Grover, the legendary villain of Bollywood, decide to re-launch himself in the film industry, but this time as a hero! He enlists the help of his dysfunctional sons and begrudging Bollywood stars including Chunky Pandey and Farah Khan plus a host of special appearances of many famous faces to help him achieve his transformation. Badman is a brilliant, laugh out loud funny and moving look at the world of Bollywood… but more on that later.
First let's set the scene with the trailer
I was very honored to get the chance to have a conversation with Mr. Grover about Badman, which is screening at this year's London Indian Film Festival. In a fascinating and fun interview, the actor talks about playing "himself" in Badman, about those special appearances, about his love of acting and so much more! It is not to be missed!
Was acting something you always wanted to do?
Yes, but I would not say always. In the early years the thrust was education and academics because that is what my late father had outlined and made us understand that no matter what our economical conditions are, which were very, very, very bad, we were very exceptionally poor, he said that education is something that you give uttermost importance too – it is something that is truly important. So, I was doing that. I was a brilliant student. I reached Shri Ram College of Commerce, which is the top most college in our country and Asia, where today the cutoff point is 100% marks. At that time I had 92% with distinction in 5 subjects so I was truly brilliant in my studies. I had had a little exposure to acting here and there. It was only after I went to the college and looked at larger things, looked at various prospects that I realised am I going to pursue my academic career or am I going to listen to my heart and go towards art? In the end I did that. Acting assumed the stronger position after I grew up. It was always there, but as I grew up and was in college and was looking towards which direction do I take my life too.. and I followed my heart.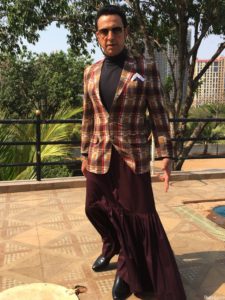 What were your first thoughts when Soumik Sen narrated the concept of Badman to you?
I loved it! I thought it was fantastic. I also thought it was gutsy and courageous to make fun of yourself as opposed to generating humor that makes fun of others. Here the humor is on me! The person who is being laughed is me. I thought that was interesting. I also thought that this is amazing that here is an iconic character played by villain and that villain is expected to play the hero in that film. That was another very interesting thing which has never been done before because there has never been a film called Angry Young Man, there has never been a film called Prem, or Rahul or Lakhan (laughs) so I thought it was truly brilliant and let me be the first one to do this.
I also asked Soumik, is the studio Viacom 18 as passionate in making this and reaching it out to people? The CEO Gaurav Gandhi and Monika Shergill, the head of production, their passion translated, and I was more than happy and excited to be in the movie.
How would you describe Badman?
I would say that it is not just as the tagline says 'A villain trying to be a hero', I mean that is an integral part of the film but here it is that you are famous, you are successful, you are a name, and how interesting and comical things can be when you try and do something else. And since it is set in Bollywood and all my colleagues are acting in it and all my colleagues being referred to in the dialogs – it is a very interesting way of looking at the happenings in Bollywood.
It takes a lot of little things from your life, so how much did you contribute to developing and adding to the script from his first narration to the final product?
I would say I only translated what Soumik sent and the other writer Anuvab Pal, who plays one of my sons; he is a stand up comedian, famous name in writing and also a very famous journalist. So I didn't interfere at all to be very honest. It was not my area of expertise. I hadn't done anything like this before. I had faith in Gaurav Gandhi, Soumik Sen, Monika Shergill and Anuvab Pal as to what they were making.
Yes, I translated what they had in mind on screen, in their opinion far better and far larger than what they had thought. I wasn't scared of letting me be the subject of ridicule. You know, in the movie like you are in the hospital room and the nurse wants to take a selfie (laughs) or the doctor wants you to recite some dialogs from your movie while you are in pain, and while your kids are only interested in that they can't find a will. They don't give a shit about your legacy or who you are all they want to know is where is the money. All those very human things are also an integral part of the film.
It's a wholesome film where you will laugh, you will enjoy, and you are really seeing the Bollywood from close quarters. We actually shot with Bollywood stars, actors, technicians, directors and along with all this, you also see some of the emotional side of it.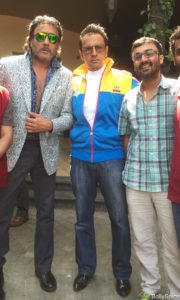 It takes a lot from films and the film industry, so how much of it is true and how much of it is exaggeration and how much of it is what they invented for this world?
It is not an exaggeration to be very honest. You can really go mad trying to pull favor from your colleagues. You can really go crazy if you are a villain wanting to be hero and at the same time a hero wanting to do something else could also have an interesting, funny reaction of participation of the other colleagues. All of that – nothing is exaggerated.
Like there is a dancing scene and I am a terrible dancer even in real life so that is not an exaggeration at all. (Laughs)
So Ms. Farah Khan was really getting annoyed..…
Yes! That is why the scenes look real! (Laughs)
It must have been fun to play this character, because you are you in a form but you get to expand it into so many different aspects, the more emotional, the funnier, to play the hero…
Absolutely! I would also say enjoy was not the only emotion that I went through… I was also partially scared. I was partially scared that I hope it translates the right way. There is a large part of it where I am called a failure and also in the movie I am called a failure father. There is also a funny certain thing about all this. So I felt all emotions while portraying that and I wanted to play it correctly.   That is what sort of has translated into it.
Also the tremendous support of my colleagues – be it Manisha Koirala, Rishi Kapoor, Jackie Shroff, Farah Khan, Mahesh Bhatt, Shootjit Sarkar, Sujoy Ghosh, and even Vishal Dadlani, who sung the title song, Goliyan Chidkta Aaya BADMAN.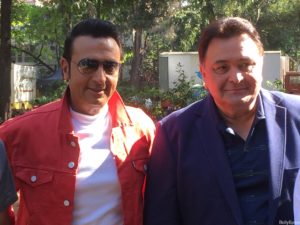 I loved seeing all the special appearances. That one scene where you are sitting opposite Mr. Rishi Kapoor, and you both are just staring at each other, I was wondering were you about to crack up?
(Laughs) Yes, yes we were. We shot the scene in the legendary Mehboob studio. And yes we were absolutely about to crack up. Also we had great fun shooting this scene because Shah Rukh was shooting right next to us for his film Raees. We had a very, very enjoyable time while shooting that scene. I also made my friend Shah Rukh hear the whole story of the film and made him hear the title song sung by Vishal Dadlani. And Shah Rukh kept complimenting and saying this is going to be an interesting and amazing film. It was really fun shooting that scene.
One you saw it all together with all scenes, special appearances and everything involved what did you think?
I did not see it for a while to be very honest. I sort of rolled on the faith of Gaurav Gandhi, Monika Shergill, Soumik Sen, Aritra Mukherjee and various others involved. I had faith in their faith. I normally don't see the films. It is like once it is done it is like I have kicked the ball – whether it hits the goal post or not… we will see. It is gone it is out of my hands, I have kicked the ball, I have hit the ball with my bat in the cricket.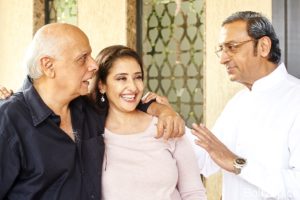 Is it hard to play straight in a comedy like this? You were the straight man throughout the entire thing…
It is very hard, it's very difficult. See comedies are perceived in a certain way – comedies in India are done a certain way. We were very clear on this – that I am going to play it real. Soumik is not only a very good director; he is a very tough director as well. He is clear what he wants and he does not really want to change or stop. He is clear how he wants it and that is how he wants it, which was good. It didn't leave any room for any ambiguity or any should we do it this way or should we do that way? He had it all clear. It was good. And good or bad it was his way of thinking.
What is your favorite thing about Badman?
I think I like the scene where literally I have had a heart attack and I am lying on a deathbed and all the kids are discussing the will and calling me an idiot for not really having done enough for the children. You know, that scene is beyond the golden jubilee trophies, the fans, the stars, the stardom, the fans that want a piece of their star… it is beyond all that. It is the real world of a celebrity, a star where kids have a certain perspective have a certain way of looking at things. That scene, you know, I really, really felt very strongly. I am told that that is a very moving scene. That scene was really something that I felt very close too.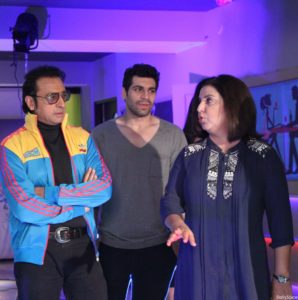 Do you still have the acting itch, as Mr. Mahesh Bhatt told you in the film?
(Laughs) I have nothing else but acting itch honestly. The only itch that I have is the acting itch.
Looking back over your career what would you say?
To be very honest I am of the opinion – I don't look back. I don't do this throwback photograph, posting 'this film 15 years back what an amazing time we had on set' bullshit. Are you relevant today?! Are you relevant in your chosen craft today?!. Are you better than what you were 15 years back in areas where you lacked?! That is what I am interested in. That is what inspires me. This bullshit about when I did this or when I did that or you did this… Many other external elements supported you and that is how you became what you became and that is why we are interested in your story of the early years because you became something. There are many who were left back there and we are not interested in their story. So therefore I am absolutely against this thing about early years and nostalgia. Nostalgia to me is like a soft tranquilizer. It sort of gets the logic out and everything looks nice and beautiful in the movies you know?   The earlier years are always in sepia and have beautiful lighting and everything. I don't really look back honestly. I am looking at the present and I am staring at the future. I am looking at the present very pleasantly and staring at the future and that I am Passionate about acting! I love acting! There is nothing else I can do. I hope and I am very sure that I will continue to do that until the end of my being here in this world.
How exciting is that the film is coming to London Indian Film Festival?
I came many years back; I had such a fantastic experience! There is tremendous energy! I Loved It! I stepped in for another actor, I think Irrfan Khan was supposed to come for The Lunchbox which was being shown and something didn't go right so I came as the guest of honor and I opened the festival. It left such a warm, nice feeling and memory in my mind. The clarity of Cary Sawhney and all his colleagues and their passion for cinema. The audiences and everybody that I interacted with – their love for cinema was something that left me with the feeling that I want to come back. It happened in a perfect way that I am now coming with a movie that is my film! A film where I play the lead. India's first mokumentary feature film. Never ever has India made a feature film where everybody plays themselves. Mahesh Bhatt is Mahesh Bhatt, Gulshan Grover is Gulshan Grover, Farah is Farah and there are more. I am proud and happy that I am coming back to the festival with a film that is my favorite film that has me in the lead.   And it's a film that would be a unique entertaining wholesome experience for the festival audiences.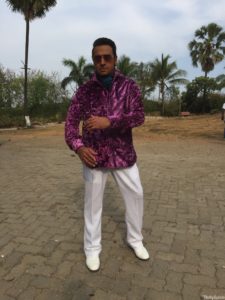 Badman is also the opening film at the Moscow Film Festival in the Indian Panorama on the 23rd. It is one day prior to the London Film Festival. So I literally leave the screening halfway through in Moscow and fly to London to be amidst and in the activity of the London Indian Film Festival that I truly love and adore. The screening opens on the 24th at Cineworld Wembley. I would like to convey through you to my fans that I shall be present at all of the four screenings Cineworld Wembley Cineworld Leicester Square, Stratford Picturehouse and Birmingham's Cineworld Broad Street. I want them all to know I would be happy to meet my fans, take a picture with them. I will be there throughout the festival!
If you are in London or Birmingham be sure to go experience Badman and meet Mr. Gulshan Grover at the screenings at London Indian Film Festival!