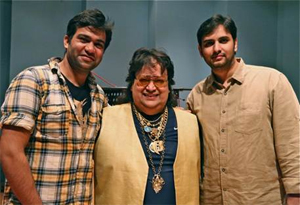 YRF's Gunday, starring Ranveer Singh & Arjun Kapoor, along with Priyanka Chopra and Irrfan Khan in lead roles, will see Bappi Da in action! It's hard to imagine Hindi music of the 80's without Bappi Lahiri. Even harder to fathom pop music from Kolkata minus its beloved Bappi Da. So, when director Ali Abbas Zafar decided to make a cabaret song for Gunday, set in Calcutta of the 80's, Bappi Da was an inevitable choice.  It brings together YRF and Bappi Da for the very first time.
"For months we were trying to come up with this Cabaret song, but a good melody was eluding us", says Sohail Sen, the composer of Gunday. "It is meant to be Priyanka Chopra's introduction song in the film, it had to be special." Then one day, a melody fell into place. It was bang on. It's a number that combines jazz with brass and drums, something that was hugely popular in those days. With not too many days left for the shoot, the team got into action immediately.
Neha Bhasin, who had earlier sung Dhunki from YRF's Mere Brother Ki Dulhan, was roped in to be Priyanka's voice for this song. And when it came to the male voice for Ranveer Singh and Arjun Kapoor, both Ali and Sohail were very clear – "It had to be Bappi Da".  In contemporary times, his is perhaps the only voice that strikes a chord with all age groups. And the magic that he generates is something only he alone can do.
Bappi Da was thrilled to be a part of Gunday. He added some of his characteristic nuances to the song that were a rage in the 80s. "I'm very excited to be a part of this, I have worked with Sohail's father Sameer many years ago and now I'm working with his talented son. This song is a guaranteed crowd puller, especially in Kolkata."
Gunday is slated to release on Valentine's Day, 14th February 2014. It is directed by Ali Abbas Zafar and produced by Aditya Chopra.