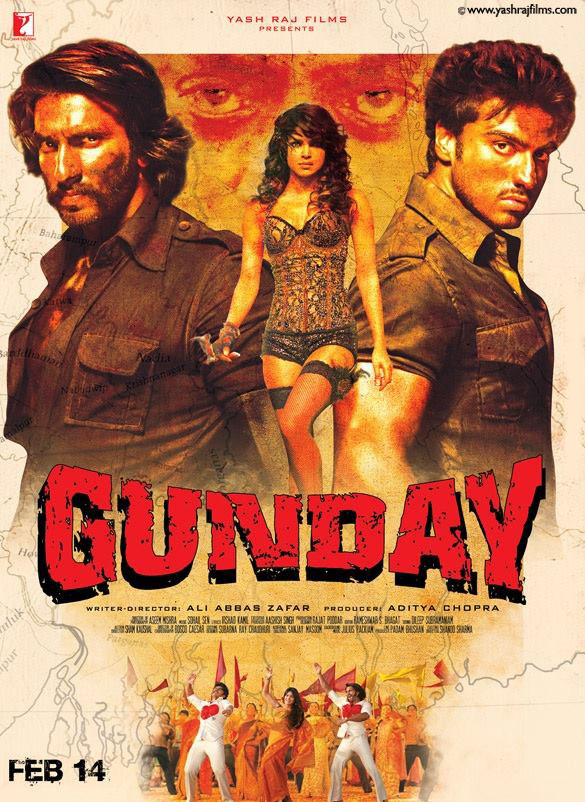 Gunday is based in the 70s and 80s. It is like a film made in that era too. That can be a good thing or a bad thing depending on your taste. Think of Amitabh Bachahan starrers of the 70s with all their machismo, claptrap dialogues and devil-may-care swagger. While Gunday falls way short of those standards of good stories and strong characterisations, it is still a decent masala outing. And thankfully, doesn't belong to the too-familiar genre of South masala movies.
Bikram (Ranveer Singh) and Bala (Arjun Kapoor) are inseparable childhood friends. Two orphaned teenagers who ended up in Calcutta in 1971 as refugees from the newly-formed Bangladesh, they go on to become the biggest Gundays the city has ever seen. So strong is their bond that when both of them fall in love with the same girl, a cabaret dancer Nandita (Priyanka Chopra), they decide to woo her together and let her choose one among them. However, there is trouble in their paradise in the form of ACP Satya (Irrfan) who has vowed to end their illegal rule of Calcutta.
There is nothing authentic in Gunday. None of the actors look Bengali, the costumes belong to another era, even the cars are in the wrong decade. There is not much of a story here either and whatever there is, it's full of unconvincing motivations and inconsistent characterisations. And yet, the film works. It works on the sheer machismo and verve of our gundays. Not since Jai-Veeru in Sholay have we seen two men so unabashedly in love with each other (without any homo-erotic undertones). That is why the reason they turn against each other seems so unbelievable. This is when the film slips but fortunately doesn't fall because the earnest actors hold it all together. They are helped majorly by some solid dialogue-baazi and some very catchy songs.
Director Ali Abbas Zafar may have faltered now and then in his storytelling but he gets it right with his casting. This one would have been a washout without the uncontrollable energy his heroes bring to the film. Ranveer shows once again what a powerhouse of talent he is. Arjun comes nowhere close in terms of acting talent but scrapes through on the strength of his chemistry with Ranveer. It certainly helps that these two have perfectly chiseled bodies which they happily show off in many of the film's slow-motion shots. Irrfan, on the other hand, doesn't take off his shirt but then he doesn't need to. His eyes are sexier than the two leads put together. He remains the voice of sanity throughout the film, the man among the boys. And Priyanka is all woman. This is the hottest she has ever looked and doesn't disappoint as an actor either. Saurabh Shukla too is very impressive as the sympathetic lawyer cum friend to the two warring friends.
Gunday is not the tribute to the 70s that it could have been. However, it is still an enjoyable affair for those who like masala films. Watch it for the old-fashioned herogiri, for the cabaret dancer who is as pure as driven snow, for friends who would happily die for each other. All Bollywood cliches, yes, but sometimes old cliches end up making you smile.