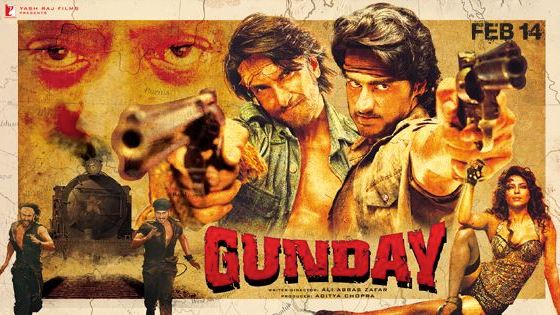 Gunday is a forthcoming action film starring Ranveer Singh, Arjun Kapoor, Priyanka Chopra and Irrfan Khan in the leading roles. Directed by Ali Abbas Zafar, Gunday is slated for release on 14 February 2014 and promises to be an adrenaline-fuelling film based on two thieves who join the coal mafia in Kolkata. The music to Gunday has been composed by Sohail Sen, who has given us albums such as Mere Brother Ki Dulhan and Ek Tha Tiger. The lyrics have been written by Irshad Kamil, Ali Abbas Zafar, Bappi Lahiri and Gautam Susmit. So does the music to Gunday live up to our expectations? Read on to find out!
First up we have 'Jashn-E-Ishqiya,' which has been sung by Javed Ali and Shadab Faridi. The song contains rock samples with the use of instruments such as bass drums and electric guitar. The vocals are respectable and give the song a masculine flavour to it. Although it's not an outstanding song, it does offer us something that is musically different so do make the time to check it out. There is also a short Rhythm version sung by Shadab which is satisfactory but not in the same league as the original version.
Next we have 'Tune Maari Entriyaan,' sung by Bappi Lahiri, KK, Neeti Mohan and Vishal Dadlani. I very much enjoyed the beats and lyrics to this song and you will quickly find yourself appreciating it. The music has nice desi flavours to it and the vocals have also been nicely delivered. There is also a Bangla version sung by Lahiri and Monali Thakur which is a praiseworthy alternative to the original. Overall, this is a cool track which deserves your ear's attention!
Following this, we have 'Jiya,' which has been performed by the amazing Arjit Singh. As much as I love Arjit, I found this song to be bland. It just does not have that catch to it which will stick to your mind. Hence, give this song a miss!
We also have 'Asalaam-E-Ishqum,' sung by Bappi Lahiri and Neha Bhasin. I do like some of the music that has been incorporated into this one and Neha is especially a treat to listen to. However, the song itself is average for me; though it may appeal to other sections of music lovers!
Next up is 'Saaiyaan,' which has been performed by Shahid Mallya. The song has some Sufi elements to it and I also appreciated the lyrics which have been nicely written. Shahid also delivers a strong performance as the lead vocalist. His voice blends very well with the theme of the song. I would say give it a try as it may win you over!
'Mann Kunto Maula' is next, which has been sung by Altamash Faridi and Shadab Faridi. I didn't like the fact that the song took a while to build up and made it all the most tedious to listen to. The vocals are modest but I soon found myself losing focus with this one. It's dull and lacking in appeal and therefore I recommend that you skip this one. There is also a Classical version of this one which I recommend solely for the music. It has been composed very well and instruments such as the tabla and the harmonium have been executed nicely.
Following this we have 'Gunday' and has been performed by Sohail Sen and Kinga Rhymes. I did like the use of the guitar which gave the song a country style to it. Yet this is another disappointing track to listen to and does not offer us anything which will motivate us to listen to it again and again.
Having listened to the soundtrack to Gunday in full, I was disappointed by the fact that it was not as fulfilling, given the hype surrounding the film. Although there are some really cool tunes such as 'Jashn-E-Ishqiya', 'Tune Maari Entriyaan' and 'Saiyaan,' I personally feel that the album could have been even more amazing if more work had been put into some of the songs. Let's hope that the film itself is more enjoyable when it releases on 14 February!