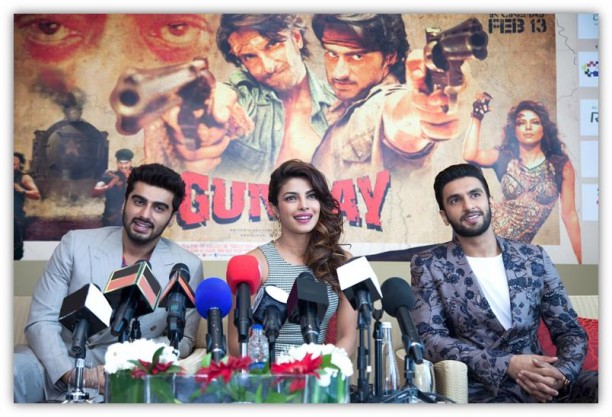 Yash Raj Films' much-anticipated film GUNDAY had its World Premiere in Dubai on Wednesday, 12th February 2014.
You would be forgiven for thinking you were at a rock concert and not a film premiere, when the crowds erupted the moment team GUNDAY stepped out on stage.
A retro-styled entertainer featuring Bollywood heart-throbs Ranveer Singh, and Arjun Kapoor alongside the multi-talented Priyanka Chopra and international power house performer, Irrfan Khan. GUNDAY transported the audiences back in time and the big screen truly exploded when the film opened at the Meydaan Theatre, Dubai.
The trio sang, they danced, they joked and interacted with fans of all ages from 6 to 60 – such has been the appeal of the film. An entertaining night in the spirit of the movie and one Dubai will remember for a long time.
GUNDAY is Directed by Ali Abbas Zafar and Produced by Aditya Chopra.
Based in Calcutta during its most unsettled times in the '70's, the film deals with the inseparable life of Bikram and Bala. The story of 2 boys, boys who became refugees!
Refugees who became gun couriers… Gun Couriers who became coal bandits and coal bandits who became Calcutta's most loved, most celebrated, most reckless, most fearless, most powerful!
A story of two happy-go-lucky renegades who came to be known as… GUNDAY!
Celebrate this Valentine's Day – GUNDAY style!