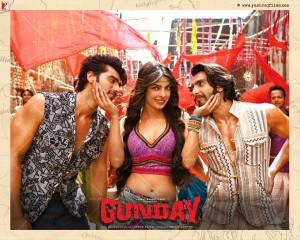 GUNDAY took a flying start on Valentine's Day and has continued its record-breaking run to become the highest grossing Hindi Film Ever in February, setting a new box-office record for the month.
The breakdown of Net Box Office Collections is as follows:
1st Week – INR 63.08 Cr
2nd Week – INR 13.04 Cr
3rd Week – INR 2.30 Cr
Total NBOC – INR 78.42 Cr
Released in India on Valentine's Day the film exploded on 2800 Screens setting the Valentine's Day & February Weekend Record.
GUNDAY, an ode to the cinema many have grown up with, The Sensational Seventies, is based in Calcutta during its most unsettled times in the '70's, the film deals with the inseparable life of Bikram and Bala. The story of 2 boys, boys who became refugees!
Refugees who became gun couriers… Gun Couriers who became coal bandits and coal bandits who became Calcutta's most loved, most celebrated, most reckless, most fearless, most powerful!
A story of two happy-go-lucky renegades who came to be known as… GUNDAY!