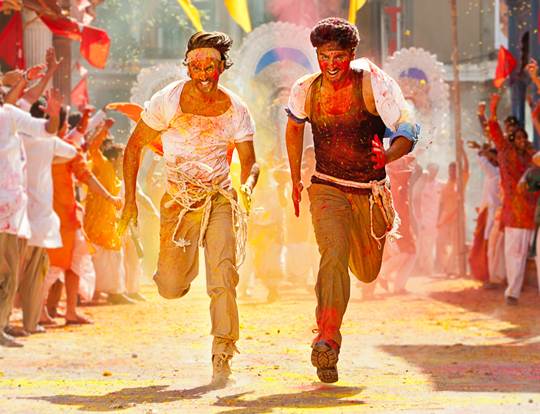 Directed by Ali Abbas Zafar and produced by Aditya Chopra, the highly anticipated Gunday stars Ranveer Singh & Arjun Kapoor, as Bikram and Bala, along with Priyanka Chopra and Irrfan Khan, in lead roles. The Yash Raj film has started its next schedule in Kolkata.
What is cool is the sequence that they are shooting for the film! The Gunday team recreated a '80s Calcutta' and shot a dramatic Durga Puja sequence under the Howrah Bridge bringing Kolkata to a standstill. A crowd of over 1000 ecstatic and overjoyed people could be heard chanting slogans – "Joy Bikram! Joy Bala!" The city of Joy is revelling in friendship between Ranveer Singh & Arjun Kapoor, both onscreen and off screen.
Gunday's story is set during Calcutta's most unsettled times, and tells the tale of the inseparable Bikram and Bala, who grew from being small time, inconsequential wagon breakers and coal thieves, to becoming the biggest and most powerful black marketing mafia-men. As the infamy of these two renegades spread far and wide… the People of this sprawling city started calling these two happy-go-lucky rebels… GUNDAY.
Watch this space for more!