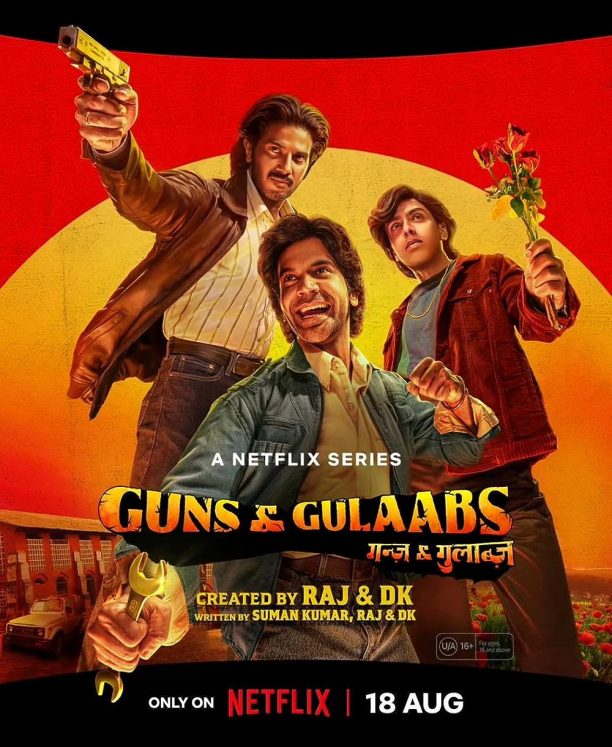 Guns & Gulaabs(Netflix, 8 Episodes)
Can violence ever be humorous? It can, if you are Quentin Tarantino or Guy Ritchie, or nearer home Sriram Raghavan or Raj-DK, the duo that sticks its neck out so far, you fear for their hair.
Guns & Gulaabs (probably a tilt of the protagonist Tipu's topi to the rock band Guns & Roses) is set around the 1970s and 80s in a lawless town named Gulaabganj, adjoining the town Sherganj . Just when you thought there would be a Romeo and Juliet from the two warring towns , we are told there is a lovelorn Romeo, Tipu played by the irresistibly goofy Rajkummar Rao who pines for a school teacher Lekha on a mo'ped(T J Bhanu).
Now Tipu is no Sultan of romance. Fuck, he can't even write! So he gets a prim and propah schoolboy who listens to love songs by Aerosmith , Air Supply etc on a rickety two-in-one while penning love sentiments, to do the needful.
In the meanwhile, an upright cop played with endearing equanimity by Dulquer Salman arrives in Gulaabganj to clean up the cocaine crime syndicate created by a ganglord named Ganchi(the late and much missed Satish Kaushik who for very obvious reasons, vanishes after two episodes) and his son , rather obviously named Chota Ganchi.
As played by the wonderful Adarsh Gourav, Chota Ganchi is a bewildering brew of the bratty and the sinister. Gourav takes the character through the complicated arc effortlessly; his subtle leering in this snarled but accessible series that avoids layering, at his friend's wife is so sickening, it actually seems funny.
All this sounds very violent, which it is(though Raj and DK and their writer Kunal Mehta treat the violence with comicbook contempt) and it also sounds highly tangled, which it is not.
These are people who live by the gun and die by it. As simple as that!
It is up to the co-directors to ignite a farcical fire in the blizzard of body counts that hits the plot almost by numbers. The way Tipu claims his violent genes in a scene where a spanner plays a pivotal part, is not meant for the squeamish. But at the same time, the violence cannot be considered gratuitous.
It is all so savage and funny and savagely funny that by the end of it this mashup of mirth and mayhem we are left panting for breadth.
As is the wont in Raj-DK's storytelling, the casting is where they get it right. The rest just follows. Rajkumar Rao's Romeo with a streak of Satya is a mishmash of emotions that are hard to define . Rao sinks his teeth into the part with relish. Here is an actor who is never afraid to look silly on screen.
Adarsh Gourav as a cocaine tycoon's son and Dulquer Salman as Arjun, the honeytrapped virtuous cop are pitch perfect. The ladies, sadly , have little to do which they do with artful elan.
What I found confusing was the timeline in this tale of two shitty cities. Dulquer is seen enjoying the songs of Nasir Hussain's Zamane Ko Dikhana Hai as he drives to his new job. He later asks his cop colleague to get him a cassette of the film without the 'Jhankar beats' which were popular during those times.
But soon after, Tipu is heard crooning a song from Aashiqui which came nine years after Zamane Ko Dikhana Hai.
So is Gulaabganj stuck in a time warp where a decade and more seems irrelevant? Guns & Gulaabs is a super-crazy sometime dizzying oftentimes exhilarating ride into a wild waste every character is a loser though he thinks otherwise.