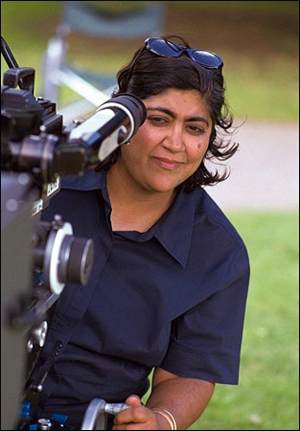 On May 6th, British filmmaker Gurinder Chadha (Bend it Like Beckham) will have her work showcased at the prestigious New York Indian Film Festival. They will be highlighting Bhaji on the Beach, which debuted 20 years ago, if you can believe it. Her debut feature film tells the tale of group of women of Indian descent who take a trip together from their home in Birmingham, England to the beach resort of Blackpool. As the trip progresses we learn more about these women and the issues in their lives. In case you haven't seen it, I won't spoil, but I will say it ends up being a life-changing trip. Not only that, NYIFF will also present a retrospective of Chadha's first films – a series of documentaries for the BBC.
I got the amazing chance to chat with Ms. Chadha about her career and we talked about Bhaji on the Beach, the documentaries, Bend it Like Beckham of course, and so much more.
What made you want to go into making films?
Well, it was wanting to see people who looked liked me [Indian] on the big screen. You know, people like me really didn't exist on the big screen. They were always on the margins as extras. I wanted to find ways to make us center stage.
It has been 20 years since Bhaji on the Beach, what are your thoughts on the film now?
I saw it quite recently and I have to say it pretty much holds up actually. (Laughs) It is still really funny and it still really works! Obviously, given that it was my first film, what I know now compared to what I knew then, you know, is a massive gap. So there are certain shots and certain sequences that I just sort of cringe a little bit saying, 'Oh My God Why Did I DO that'? I should have done this; I should have done that. But on the other hand, I think some of the stuff works really well so I was able to sort of relax and get into the story of it. And you know, I hadn't seen it for so long I had forgot part of what happens in it.
Do you think the film's stories still resonate today? I really do.
I totally do! There is still the whole issue of mixed race relationships and also domestic violence. Also just the idea of older women not really having a voice and wanting to just express themselves. So definitely. I can't believe in 20 years so little has changed and that those issues still have resonance.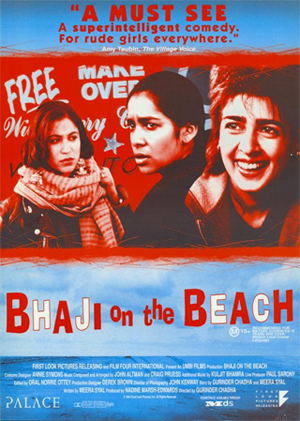 What do you remember most about making that film?
I remember the excitement of shooting in Blackpool. That was a lot of fun. I remember the thrill of seeing queues all around the cinema when it first opened, because no one thought it was going to do the business it did. I remember the wonderful review from Janet Maslin in the New York Times and also Ken Turan's piece in the LA Times. At that time I didn't really understand how significant that was. Particularly Ken Turan, because I thought the LA Times was just a local paper, not really a national paper. I didn't really get the significance but it was the whole front page of the Calendar section of the LA Times. Now I know what a big deal that was, then I didn't. (Laughs)
I also remember the excitement of everybody involved in the film; right through the writers with me, Meera (Syal), Nadine (Marsh) the producer, the actors – just everyone. It was like this sense of we are never going to be able to make a film like this again! We are never going to do something like this again! It was quite amazing!
It was recently showcased in London and now it is being showcased and honored at the New York Indian Film Festival. How does that feel?
Ooh! Amazing! I am just thrilled to be going back to New York! It opened at the Film Forum there and the Angelika, I remember. I remember that whole…it was that first time when I saw audiences from a different country really enjoying the film. I didn't expect it – that audiences in New York sat and watched the film and took it all in and enjoyed it. It was eye opening – that it was cross culturally. I was shocked at that. I remember thinking 'Wow! This really is the power of cinema. That it can transcend so many boundaries'. I am excited to go back and see it again with people that were there the first time round actually!
At NYIFF, they are also showcasing your documentaries; can you tell us about those?
I'm British But… is my first film, which is really cute. I was supposed to be making a pop promo of a Bhangra band and it turned into that film. It really was the first film from a British second generation Asian perspective. That is how it was received. Here is a new voice. And so it was my calling card really. Also on the strength of that I got Bhaji on the Beach.
Acting Our Age, I also love because my Mom and Dad are in the film at the very end. Sadly, my dad has passed away. The dad character in Bend it Like Beckham is based on my dad. Acting Our Age is a very, very sweet film as well about the resilience of the elderly immigrants.
They are all films of me, you know, sort of starting out and trying to kind of like make my mark. For me to hone my voice if you like.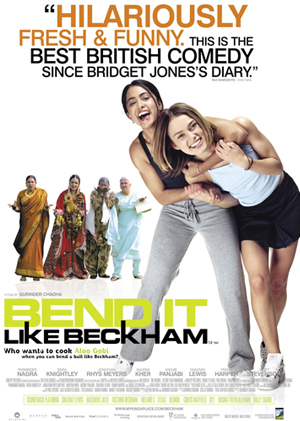 We have to talk about Bend It Like Beckham, did you think that that film would become the huge success that it was and still is today?
No, is the short answer! I did not expect that huge success at all! What I also didn't expect was the film to be so English. When I first saw the film rough cut I was quite shocked at how English it was. Those two things surprised me. It continues to be a huge favorite among people and I get tweeted about it all the time.
Right now I have been working on the West End stage musical of Bend It Like Beckham, so it has been very close to me while I have been turning into something else. The musical is kind of based on the film but not completely. It is its own thing. But for people who love the film it is going to be a fantastic experience.
Howard Goodall is the composer and Charles Hart is the lyricist, he wrote the lyrics for Phantom of the Opera. It is sort of up there!
I am really glad I am working on the musical. It is just a whole different genre and a whole new way of thinking creatively. Very interesting. It has been illuminating and incredibly creatively satisfying experience for me.
Let's talk Bride and Prejudice, tell us about the experience of making that film.
It was wonderful. It was hard work but it was wonderful. Lots of locations, lots of singing and dancing. It was a big deal. What was really interesting was that you have actors from different traditions: you had Bollywood actors, you had British actors, you had American actors. It was that kind of sense of working with people from all these different kinds of walks of life.
Of all your films so far, which are you most proud of?
Oh all of them! It's like asking a mother which child? So all of them. I like What's Cooking a lot; no one knows I made that film. You can't really pick one! They are all great for different reasons I think.
What do you hope the world will see in your films?
I think, basically, what I am doing is celebrating my own culture and my kind of multicultural identity. That's what I am doing. The idea is that what I am showing the world is that, even though I am British, I also have these other facets and ways of looking at the world. In that sense, that is really what I am celebrating and what I am showing.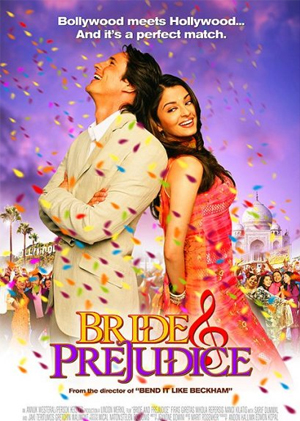 What are your thoughts on Bollywood films today?
I think there has been a whole new kind of generation working in Bollywood and I think there are some amazing new filmmakers. I think there are some great films – I have to say. There is still all the sort of useless masala stuff – that is fine for what they do but doesn't really stand up to scrutiny. But I think there has been a new generation that has been brought up on films with different production values and different sense of story line. I think those are very exciting elements in Bollywood.
I know you worked with Aishwarya Rai in Bride and Prejudice and of course the great Mr. Anupam Kher in both Bride and Prejudice and Bend It Like Beckham, but are there any other actors you would love to work with from Bollywood?
Oh Yes! LOTS of them! I know a lot of them as well so it will happen I am sure in the future!
Looking back over your career so far what would you say?
I'd say Good Job! (Laughs) I wish there were more! I wish there were more but it is hard to get movies off the ground. This is not an easy job. For me, I'm lucky I managed to get the ones I have done and I wish I had been able to get more. It's tough getting movies off the ground, so many things have to align. For all the ones you see, there are lots that didn't get made for whatever reason, casting or finance. So as many as I have made, there are as many that nearly got made!
Thank you Ms. Chadha, for a fabulous and fun conversation! I have to say that this interview brought me full circle: Bend it Like Beckham led me to Bride and Prejudice, and watching the DVD extras opened my gateway to the entire world of Bollywood. It was an honor to talk with her! PS: Gurinder … later I did notice the Hrithik poster on Pinky's wall in BILB!
The New York Indian Film Festival runs from May 5th to the 10th and Ms. Chadha's spotlight evening is on the 6th. You can find out more about that event, get tickets and see what else exciting is happening at festival if you check out http://www.iaac.us/nyiff2014. Also to read more about her short films check here.