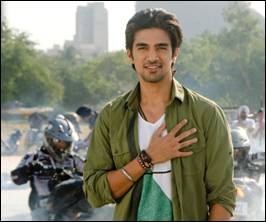 One of the world's biggest music producers, the man behind worldwide smash hit 'Mundian Te Bach Ke'… Panjabi MC scores his first original track especially for Bollywood. 'Haaay!' has been composed and sung by him, and also features voice of Manak-E.
Set on a Panjab University campus, the video of the song replicates the popular 'Gehri route' feel that's unique to Chandigarh. The video drips of signature local flavor with guys doing insane stunts on everything including bikes, cycles, cycle rickshaws and even tractors. With local pehelwans, b-boying dancers and more making their way into the visuals.
Panjabi MC says "It was a fantastic experience to score for Yash Raj Films, one of Bollywood's biggest studios. The song Haaay! came to me with a very clear brief. Given that the story is set in Chandigarh, scoring Punjabi music is like second nature to me. Also, somewhere deep down, every boy loves his gaddi, and that's exactly what this song is all about, loving your gaddi and your kudi."
The Mere Dad Ki Maruti music album is a North Indian hand-grenade set to explode in the palm of your hand… Featuring some of the biggest names in Punjabi music coming together on one single album for the first time. Dig this… Mika, Yo Yo Honey Singh, Diljit Dosanjh, Panjabi MC besides others.
Get ready for an outrageous comedy set against the backdrop of a loud Punjabi wedding in Chandigarh. MDKM tells the story of a boy who sneaks his dad's fancy new car out to impress the college hottie and how all hell breaks loose when he loses it!
Music available exclusively on YRF Music. Be sure to check out our 4 star review!
Movie releases in theatres 15th March 2013
Check out the song and video!