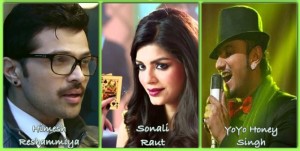 "In My City I am Alone…Main Hi Na Jaanu Ke Main Hoon Kaun?" I am sure that many of you are enjoying this wonderful song from The Xpose that is currently riding high in the charts.
When two great musicians Himesh Reshammiya and Yo Yo Honey Singh come together, we can only expect magic. Himesh Reshammiya and Yo Yo Honey Singh share a special musical bond and that is clearly visible when one listens to Hai Apna Dil from Himesh's forthcoming film The Xpose. The main twist in the song is the unique combination of English and Hindi lyrics that are written by one of Bollywood's finest lyricists Sameer Anjaan. Himesh has sung the song with utmost ease and one can also hear the variations in his voice as he sings the lines "Mausam Aaj Toh Bada Beqaraar Hai, Aise Main Mujhe Tera Intezar Hai…" Another surprise element for listeners in this song is that, Honey Singh is actually singing in the song and is not rapping in his usual style.
There are strong jazz elements in this song which also bring a pleasant new twist in Bollywood Music, (which has often shied away from this genre). Full credits to Himesh for composing in this style and bringing this genre back in the music scene.
The song is picturised on Himesh, Honey Singh and Sonali Raut and is set against the backdrop of a 1960's club. The Blues Mix of this song is also worth a listen as one instantly thinks The King: Elvis Presley is back in the building! The famous "walking bass" (a prime feature in Blues Music) is also present in this remix.
A fitting tribute to the 1960's, enjoy the highly stylish promo of 'Hai Apna Dil Toh Awara'.
The Xpose releases on 16th May 2014.