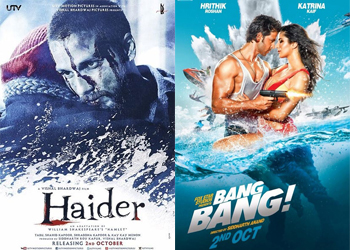 This weekend will be one of the biggest weekends at the Bollywood box office, as two of the most awaited films of 2014, Haider and Bang Bang, will be released on the same day October 2nd, and will have to "fight" to get the biggest chunk of the audience collections. However, are these two films really rivals? Considering that they are completely different in terms of genre, budget and probably targeted audience, it does not seem very fair to compare both films, as trade analyst Komal Nahta recently told IANS.
In any case, what do these two films have to offer? Keep reading to find out everything you need to know!
Haider is Vishal Bhardwaj's third approach to Shakespeare's work after Maqbool (2003) and Omkara (2006). An adaptation of Hamlet, the director takes the story to the snow-covered valleys of Kashmir. One of the biggest appeals of the film is the cast, led by Shahid Kapoor who incarnates the Indian version of the Danish prince in probably the most challenging role of his career. The cast is completed by Tabu, Shraddha Kapoor, Kay Kay Menon and Irrfan Khan. This dark and dreary tale of betrayal and vengeance promises to cater for the cinemagoers in the search for a disturbing film.
For its part, Hrithik Roshan and Katrina Kaif starrer Bang Bang is the official remake of Hollywood's Knight and Day. Shot in several locations around the world including Greece and Abu Dhabi, Siddharth Anand's film will resort to frenetic action sequences and the lead pair's sizzling chemistry – which they already displayed in Zindagi Na Milegi Dobara – in order to attract the audience to cinemas. Not for nothing its budget is estimated at 180 Crore Rupees, a figure much higher that Haider's 24 Crore Rupees budget.
Both films also differ in terms of distribution, as Bhardwaj's film will be seen at 1200 screens in India while Bang Bang will have a wider release with as many as 3500 screens. Thus, the Hrithik starrer seems to hold all the cards to win the game, as its genre and characteristics will be appreciated by a wider audience. However, Haider will surely attract a niche audience loyal to the director's films. Moreover, the extended weekend in India will probably boost ticket sales for both films.
It is going to be a busy weekend for Bollywood film lovers. Tell us your say. Are you looking forward to Haider and its Hindi version of the world-famous "to be or not to be"? Are you rather thinking of watching the action-packed Bang Bang with Hrithik and Katrina? Or are you planning a Bollywood marathon to watch both films? Which film do you think will collect more at the box office? We just need to wait for few days to know the winner of this "duel of the year".