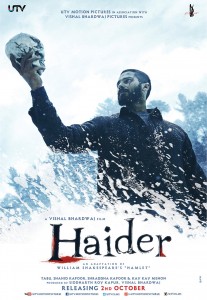 "To be, or not to be: that is the question…" To watch Haider, or not: that is the question.
Prologue
'Hamlet' is a Shakespearean tragedy adapted countless times, on stages and celluloid throughout different nations, cultures and times. Now the sir who adapted 'Macbeth' (Maqbool) and 'Othello' (Omkara) previously, presents his interpretation of 'Hamlet' as Haider. Enter filmmaker Vishal Bhardwaj and his actor Shahid Kapur as Hamlet. This is the third part of Vishal Bharadwaj's Shakespeare trilogy and we can tell you beforehand, his best was saved till last.
Opening Act: The exposition
The greatest achievement of Vishal Bharadwaj's adaptation of Hamlet, lies in its setting – Kashmir. (The tragedy of) Hamlet was set in the dark and cold Kingdom of Denmark and tells the tale of Hamlet, a young prince out the avenge the death of his father, the King of Denmark. The King is killed by his own brother Claudius, Hamlet's uncle and has also wed Hamlet's mother, Gertrude.
Haider is set in the beautiful valleys of mid-nineties Kashmir, against the backdrop of state oppression and separatist militancy, where Haider is a student and his father is a local doctor named Hilaal, from a middle-class background. His mother Gertrude (Ghazala) is enacted by Tabu, his uncle Claudius (Khurram) is performed by Kay Kay Menon and his love interest Ophelia (Arshee) is played by Shraddha Kapoor. The context of Haider is relatable, it is realistic and yet contemporary.
Themes
Vishal Bharadwaj weaves Hamlet's varying and complex themes of revenge, moral corruption, deception, politics and madness into a perfectly blended tale which satisfies both the Shakespearean and Indian cinema lovers alike. He also effortlessly merges the political backdrop of Kashmir and it's issues of 'disappeared persons' and 'half-widows', to the themes and context of Shakespeare's Hamlet.
Two short examples: one is a key act in Hamlet where he stages a play, in which he narrates a running commentary throughout and that serves to re-enact his father's murder. From this Hamlet seeks to ascertain his uncle Claudius' reaction and therefore implied guilt. This is presented in Bharadwaj's adaptation in the song 'Bismil', sung by Sukhwinder Singh, which is both dramatic and Bollywood in it's presentation, yet retains the essence and purpose of the original scene.
Another delightful example are the characters of Rosencrantz and Guildenstern, who are two student friends of Hamlet and sent as spies to observe him. In Haider they become two entertaining Salman Khan obsessed devotees, which is both comic and poignant. Those two examples aside, much more lies within Haider, which again you will either appreciate directly as a Hamlet adaptation, or even without, you will enjoy as a piece of popular Indian cinema.
Closing Act: The finale
Haider is a cinematic triumph for Vishal Bhardwaj and the crescendo of his three Shakespearean adaptations. It is an acting re-birth of Shahid Kapur following 2007's Kaminey. It has a plethora of scintillating performances: Tabu as Gertrude/Ghazala, Kay Kay Menon as Claudius and special appearance by Irrfan Khan, as one of Hamlet's integral characters. Haider is an experience which needs to be watched by audiences all over for it's cinematography, directing, performances and as an accomplished adaptation of a literary classic. Encore team and cast of Haider, Encore!