Starring Arjun Kapoor & Shraddha Kapoor
Directed by Mohit Suri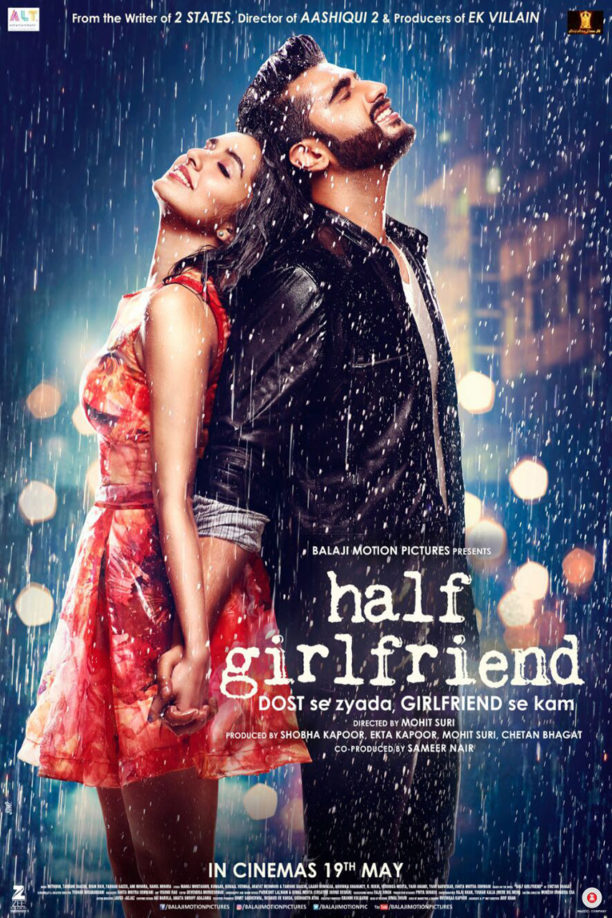 You can accuse Chetan Bhagat's novels of being lots things from silly to shallow. But you can never fault them for their entertainment value.
Director Mohit Suri known to make cinema on compulsive love (Aashiqui 2, Ek Adhuri Kahaani) takes the theme of self-annihilation in a romantic association to the extreme, bringing out his hero, a Bihari non-English medium type in Delhi who falls for a girl much higher than her heels and his social status, as a love-struck wimp obsessed with his object of adoration to the point of complete self-ruination.
This was how Chetan Bhagat meant his novel to be. The man-woman equation was seen in the light of status and social standing and then judged within the parameters of a heart-to-heart connection. Director Suri amplifies the theme of love between unequals. The complications are frail and far-fetched. Rustic Bihari Madhav Jha (Arjun Kapoor, uninterrupted in his sincerity) is not only incurably in love with socialite Riya Somani (Shraddha Kapoor, cool in her designer clothes) he will follow her to the end of the world… or to New York where she shows up in a most unconvincing finale.
But I don't think Chetan Bhagat and Mohit Suri intended Half Girlfriend to be real and obtainable look at life and relationships. In fact I am pretty sure their take on love is as distanced from reality as Mohit Suri is from Anurag Kashyap.
Half Girlfriend moves in a head-in-the-clouds fog of satiny sensations. It is fetchingly shot by cinematographer Vishnu Rao who sees the romance through a filtered haze. Arjun Kapoor maintains a gaze of steadily fixed state of adoration on Shraddha Kapoor. The gaze occasionally lusts over, but no damage done. Arjun Kapoor helps give his character the aura of an urgent sense of obsessive love that is needed. It's a capable performance underpinned by a sense of unspoken anguish that takes the lover-hero through many levels of change and acceptance.
Shraddha shines when she has to express the tragic boredom of being over-privileged. So unabashedly affluent is her character that the backstory of a troubled childhood almost seems like an afterthought. And when she takes off for New York you know her designer existence, replete with tragic delusions of a singing dying songs in a jazz bar of NY, is complete.
The love story works because the two Kapoors' play the adoring and the adored with a hangdog heft and a haughty grandeur, respectively. The rest of the cast gets swathed in a scriptural haze that they don't deserve. I wanted to see more of Vikrant Massey and Seema Biswas playing Madhav's best friend and mother. And I certainly wanted to see more of the stunning Rhea Chakraborty who shows up at the end as Madhav's blind date.It's the role of the woman who loses love even before she finds it.
What I didn't want to see are all those strenuous attempts to build a social conscience and toilets in rural India, into what is predominantly a pop-romance. Half Girlfriend is a gorgeous-looking film with no real relevance beyond its Valentinian boundaries, with plenty of unspoken chemistry between the lead pair. It could have done with less schmaltz and more raw passion, less cuteness and more real emotions.
But here is the thing. It delivers exactly the charming confection that Chetan Bhagat's novel attempted to be.