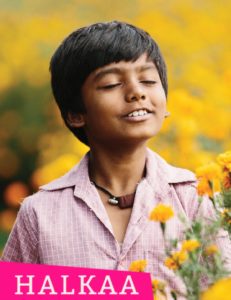 All little boys grow up dreaming of being heroes. Some want to be celebrities; actors with their 15 minutes of fame, others dream of the sporting dream, scoring the winning runs in a hopeless cause or scoring the goal no one expected would happen. Shri Nadar Foundation brings the tale of a new type of hero, one who dreams of cleanliness where its often not found in Halkaa.
Starring a cast of kids, this offbeat film requires an offbeat album. Shankar Ehsaan and Loy are well known for exactly these sorts of albums so its no surprise to find them here.
Halkaa ho ja re is our opening number. Officially sung by Divya Kumar, Ankita Kundu and Diljot Qawwali Group but it's the kids singing that steal this title song. "Nango ki basti mein tujhe chaddi Mubarak" is the catchy lyric that becomes a motif and keeps the listener hooked into the song. Instrumentation is equally Halkaa with a balalaika, harmonium and dhol keeping things bright, funny and light hearted. A song to keep you clapping along, while at the same time even without the visuals, its hard not to be aware that there is a potentially embarrassing situation unfolding.
Shankar Mahadevan then takes the mic for Khushbuyein. This has remanences of the pre-emptive love songs that have littered SEL's previous albums. Initially nothing more than singer and piano. Echo on singer gives us the dream sequence; even within the music there seems to be colours forming and flowers blossoming. Background strings are added to give the image flight and a drum replaces piano as major beat to give us the dhadkan that is obvious within its lyrics. There is a slight sadness at not yet having been able to be together with his love but for now the anticipation is enough.
Bandeya is next but they could have called it mini-Mitwa. Earthen pots and tabla open to give a fantastic earthy and folky feel. Raman Mahadevan and Ravi Mishra are at the mic but it's the driving rhythm and melody pushing things forward. Just like 'Mitwa' it feels like classic sufi being dragged into new world with a powerful drum and electric guitar. While the actors are all good if young, they are still not going to match Shahrukh Khan and Rani Mukherjee on screen though, however good the song might be.
Of course, no SEL album is complete without some serious dance. Thus, we have the half rap, half club song Morni sung by Master Saleem and Protiqe. The sound particularly plays with left and right speakers jumping from side to side as well as sometimes separating the rhythm and melody. Considering the serious nature of the film, this is a 'time-out' song and the music directors have had plenty of fun here. There are synth folk sounds, shennai reminding us of Nagin, a sort of wedding feeling to the rhythm and some loud Punjabi lyrics. Fun all around to be had for the listener.
A serious topic presented in a fun way means this album must be light hearted throughout while still hitting the point. It's got to have enough entertainment to get the crowds clapping, but it must also have the near sadness that forces the climatic push to the end and a happy resolution. Even though it's a short album this hits all the points, making it hard not to give this album a very high rating. Where it does fall however is in reminding us of some of the idiosyncrasies that SEL are famous for which stops this album standing out from their other works.