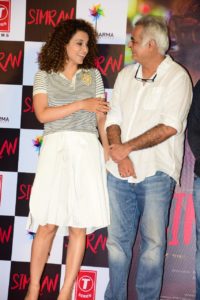 National award Winning filmmaker Hansal Mehta's forthcoming film Simran, starring Kangana Ranaut is a film that audiences are eagerly looking forward to. The combination of Kangana Ranaut as the protagonist Praful Patel and director Hansal Mehta promises us a scintillating watch.
A story about a thirty year old Gujarat girl, who is witty, whacky, full of life and ends up embroiled in crime, 'SIMRAN' has been shot in the city of Atlanta, USA.
Apparently, while shooting for the film, both Kangana and certified foodie Hansal often found time sampling some interesting restaurants and eclectic cuisines. The actor-director duo seemed to have had a lot of fun trying out different eateries bonding over cuisines ranging from Local Southern to Mexican to Italian to Pan Asian to Gujarati.
'I love food as I believe it is the secret to happiness! In fact one of the high points of shooting Simran in USA was the huge variety of restaurants and cuisines. I enjoyed scouting for restaurants on our break days and to de-stress over conversations and fantastic meals with Kangana. Both of us share a spirit of adventure both in the kind of films we make and the food we relish', says Hansal
Clearly, Kangana and her director didn't just have an incredible time shooting a heart warming film, but also created memories that both would cherish for times to come.
A T-Series, Karma Features PVT. LTD. & Adarsh Telemedia film, Simran stars Kangana Ranaut, directed by Hansal Mehta and produced by Bhushan Kumar and Shailesh R Singh. The film is set to release on 15th September 2017.