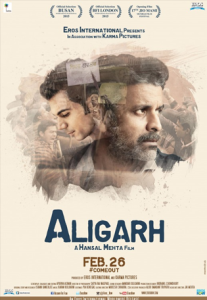 After watching Hansal Mehta's Aligarh at a private screening in Delhi, Prof Tariq Islam from the Department of Philosophy at the Aligarh Muslim University could not help but recall fond memories of his colleague and friend Prof Siras. He praised the movie, saying "The sensitive handling of the subject by Hansal Mehta's direction and Apurva Asrani's script writing were beyond my imagination. The impressive and brilliant acting of both Manoj Bajpai and Rajkumar Rao, did not allow me for a moment to feel it was a film."
Prof Islam was saddened by the true portrayal of Siras's struggle with the law and socio-cultural injustice, and his desperate attempt to regain his right to freedom. He has condemned the cancellation of the screening of the movie in Aligarh city by certain political units who have made a hue and cry over the film trying to defame the city. Prof Islam feels that this intolerance towards the movie, simply encouraged audiences to watch the film in neighbouring cities. Tariq emphasizes that the movie is not a documentary on the city but a representation of loneliness and infringement of privacy of a person.
Not being able to differentiate between the film and reality, a teary eyed Prof Tariq signed off by saying 'I felt at times that Siras would jump out of the screen and say to all of us, "I am here". Not even for a moment did I feel that the setting in any way damaged the reputation of Aligarh'.
Tariq had been a part of Dr Siras's struggle and seen him go through his suspension and isolation.
Eros International presents 'Aligarh' directed by Hansal Mehta & produced by Eros International and Karma Pictures. 'Aligarh' released on February 26th, 2016.