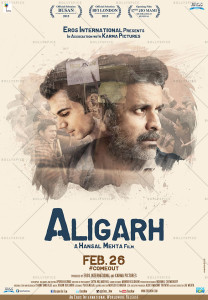 National award winning director Hansal Mehta has wooed international film lovers with his sensitive film Aligarh. At its trailer launch here in Mumbai, it's focus on awakening awareness for an individual's choice and right to privacy connected with the media & the audience.
With the film's cast & crew, lead actor Manoj Bajpayee, Rajkummar Rao & writer-editor Apurva Asrani, attending the trailer launch, the impact of Aligarh was there for all to see. Set in a small town in Uttar Pradesh from which the film takes its name, 'Aligarh' is the story of a professor, Dr. S R Siras (Manoj Bajpayee) fired from his position for his sexuality and a young journalist, Deepu Sebastian (Rajkummar Rao) who tells his story to the world. Based on true events, the film depicts the unlikely friendship between the two, a relationship that will change both of them forever.
So far, Aligarh, within a relevant context of intolerance & compromise with an individual's freedom of personal choice raging across urban India, has won accolades in film festivals worldwide. It was only the second Hindi film in 17 years to open the 17th Jio MAMI Mumbai Film Festival in October, 2015. The film has also travelled to the prestigious Busan International Film Festival for its World premiere & the 59th BFI London Film Festival.
Recalling the Aligarh journey so far, Mehta said, "The overwhelming reception to Aligarh at film festivals tells us that we've done something right! With its trailer now available online, we want Indian audiences to see, first hand, the impact of social exclusion. Film is a powerful medium & the story of 'Aligarh' needs to be told. That we have been appreciated at MAMI, Busan & BFI makes me very grateful & rewards the whole team's tenacity. We hope the film will find its audience here in India too."
Producer Sunil Lulla of Eros International said, "Aligarh is a special and significant film that resonates with present times. Eros is proud to commence the year with the release of a milestone film like Aligarh that should encourage a much-needed conversation around denial of fundamental rights."
To watch the trailer, please click on the link:
http://erosnow.com/#!/movie/watch/1048711/aligarh/6667509/exclusive—official-trailer?ap=1
Eros International presents Aligarh directed by Hansal Mehta and written by Apurva Asrani, produced by Eros International and Karma Pictures.
The film will release in India on February 26th, 2016.