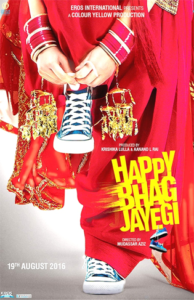 Happy Bhaag Jayegi
Starring Abhay Deol, Diana Penty, Momal Sheikh, Ali Faizal, Jimmy Sheirgil
Written & Directed by Mudassar Aziz
"Woh jo chahti hai karti hai," Abhay Deol playing a suave Pakistani politician's dissatisfied son trapped in a life he doesn't relish, says at some point about the protagonist.
Abhay has a complex role in a narrative that floats freely gently and elegantly on the surface level. We know all along the complications in the plot—including the heroine landing up accidently in Lahore from Amritsar—are going to iron themselves out magically. Yes, this is that kind of a film where laughter can wipe out 69 years of bitterness between hostile neighbours. At least for a couple of hours.
Yes, this is the kind of Utopian cinema where the entire city of Lahore, including benevolent autorickshaw drivers and a compassionate though cranky cop (Piyush Mishra, brilliant), gets together to help an Indian damsel in distress….well, sort of! Happy being the 'damsel in distress.'
Happy is played by Diana Penty, and everyone from her doting father back home in Amritsar (played by Kanwaljeet Singh who now specializes in playing militarized fathers) to the Pakistani diplomat's besotted son Bilal (Abhay Deol) adores her unconditionally, although she tends to create embarrassing havoc with her impetuous self-assertions wherever she goes.
Undoubtedly, Happy is a direct descendent of Kareena Kapoor's Geet in Imtiaz Ali's Jab We Met, except that this runaway bride from Punjab lands up in Pakistan and providentially misses out on the heartbreak and betrayal that Geet had to go through because of her self-willed behaviour.
Happy is a Walt Disney heroine thrown into Ram Gopal Varma's territory. She is swathed in a kind of sanitized protective shield which never comes off even when thrown into potentially dangerous situations. We are supposed to believe that the whole world loves happy in spite of her awfully shrill self-centredness. In fact, Deol's character's subtle attraction to the girl from across the border (who very often behaves like a borderline case) echoes Shahid Kapoor's tender fondness for Kareena in Jab We Met.
But Happy being…well, Happy (which means she's always happy), loves the good-for-nothing Guddu (Ali Fazal) who we are told is a singer and a musician, though strangely none of the songs in the film's soundtrack belong to Guddu. In a beautifully crafted scene between Guddu and Bilal Guddu, sensing Bilal's attraction for Happy (see, I told you, everyone loves her) compares her….to hold your breath….Madhubala.
Yes, the Mughal-e-Azam beauty! I kid you not.
Now, we all know cinema is about suspension of disbelief. But to imagine Ms Penty as an unattainable ethereal Venus is a bit of a squeeze specially since all the other actors including those playing Abhay's house-help, are absolutely delightful. Abhay as the reluctant Pakistani politician Bilal who longs to be a cricketer plays off nicely against Ali Fazal's likeable loutish Guddu. Jimmy Sheirgil as the hoodwinked bridegroom whose dulhan runs away from the mandap reprises his role from Aanand Rai's Tanu Weds Manu but succeeds in giving his familiar character a novel spin specially when he bursts into Sunny Deol's two-left-feet Yaara oh yaara dance at his own wedding.
But the real scenestealer in Happy Bhaag Jayegi is the Pakistani stunner Momal Sheikh who plays Bilal's career-convenient but completely devoted fiancée with such finesse and understanding! You can't take your eyes off this beautiful talented girl whenever she is on screen. Momal is a prized find.
While Happy Bhaag Jayegi scores big with its ensemble cast, the narrative tends to lose steam once in a while. Though some of the gags run on for too long (and the sequence where Bilal's house-helps try to distract Bilal's fiancee's father's attention is specially tedious) the narrative never looses its satirical spirit.
Surprisingly an element of gravity is introduced mid-way when the narrative sneaks in a telling contrast in the relationships that Bilal and Guddu share with their respective life-mates. Director Mudassar Aziz explores the anatomy of commitment and honesty in a relationship without squandering away the spirit of satire that streams across this endearing rom-com. He also makes gentle comments through Piyush Mishra on how much of India and Pakistan is shared experience.
When Ali Fazal mentions Veer-Zaara to Piyush Mishra the latter sighs, "If only Yash Chopra belonged to Pakistan!"
Happy Bhaag Jayegi keeps us smiling right through the film. And that's by no means a minor achievement.