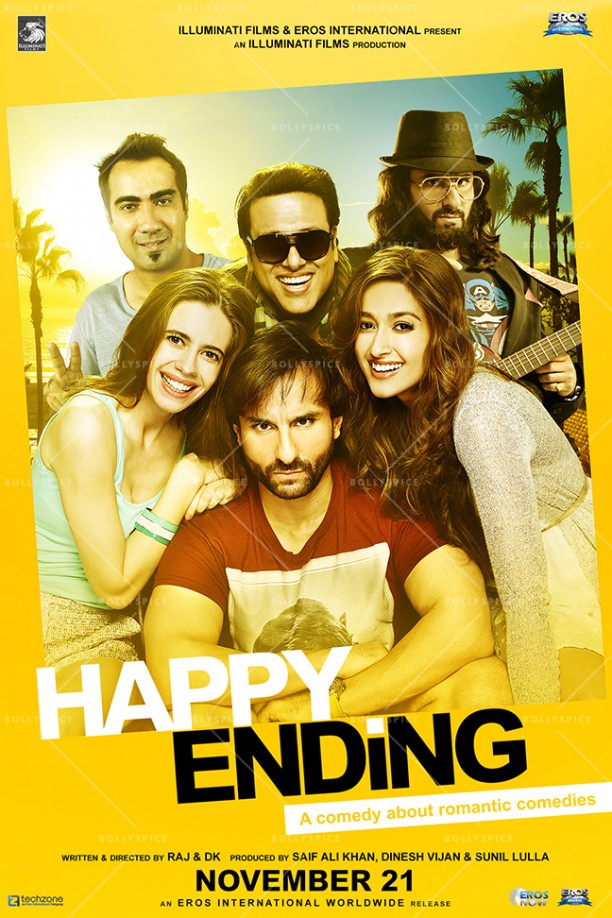 The duo that brought Shor In The City and Go Goa Gone have shifted gear with their latest offering of Happy Ending, starring Saif Ali Khan, Ileana D'Cruz, Kalki Koechlin and Ranvir Shorey. But don't worry, Raj and DK have their message clear. You can't make a difficult film for the aam janta (common people). How that would amount to an amalgamation Richard Curtis filmography is a different question altogether. Yet its not all bad.
Yes we see Saif Ali Khan for the umpteenth time as a playboy charmer man-child Yudi Jaitley, profession this time a writer. And yes, we have some very beautiful women including leading ladies Ileana D'Cruz and Kalki Koechlin falling for him. There's also the easy drunk-married-yet-regretting-it friend Monty played by Ranvir Shorey. Lets add Priety Zinta in a special appearance and NOT a song, and our beloved Govinda to add some more flavour. Other than that, simply take the blueprint from any Hugh Grant film of the 90s and Voila.. Happy Ending.
Credit must be given though. Making fun of itself while being ironic about the fact that its copying does work for the film in parts. Defeating the critics ridicule as the writers know and acknowledge the spoofing has been done before but the film does flow through smoothly. At some stage, you may start trying to pick out the spoof as it isn't slap-your-face-spoof.
Performances too will have you questioning yourself. Saif plays for us 2-4 minutes worth of Yogi and his wackiness, and this is not including Paahi, Tussi such a pussycat. However if the spoofism extends to roles, then what better way work Saif in and a dual role without the usual twin/cousin/magic explanation Ranvir Shorey is perfect as the married-but-regrets-it Montu, Yudi's best friend and perfect example of his worst fear. Kalki Koechlin has slotted herself as the counterpoint but not used enough which is a shame. On the other hand, Ileana D'Cruz brings out a conventional and flirtatious modern woman on screen. It was nice seeing Preity Zinta on screen and I hope she comes back more often. No major histrionics required from her as the voice of reason though. Govinda has some great lines about the aam janta as Single Screen Superstar Armaan looking for a smash hit film.
Now its understandable the director duo were trying to implement the "Love is not a four letter word" concept. At the end of the day, it is very true that practicality has taken over our existence with everyone running after something. So the theme fits into the little bit of reality you will find in Happy Ending. Maybe you could add in the music by Sachin Jigar. But at the end of that  same day, you aren't going to remember much more than the spoofed scenes, 'G Phaad Ke' hook reference and Yogi.
Maybe the cinematography will entice you enough to finally make the trip to the U.S. of A. Maybe you fall for 'Mileya'. As you walk out of the halls, whichever way you fell, Happy Ending wasn't matched up to what Paaji advised nor was it a comedy about romantic comedies. But you laugh, on occasion because you were warned.