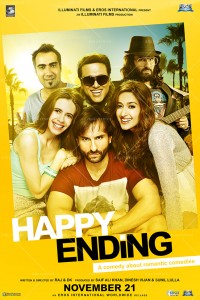 Happy Ending marks the return of the winning combination of Raj and DK, Illuminati Films and Sachin-Jigar (Go Goa Gone). Needless to say, listeners have reasonable expectations from the music of Happy Ending.
The album consists of 6 tracks written by Amitabh Bhattacharya and features the vocal talents of Rekha Bhardwaj ('Ghagra' – Yeh Jawani Hai Deewani), Arjit Singh ('Tum Hi Ho' – Aashiqui 2) and Papon ('Tu' – Bobby Jasoos) amongst others.
The album commences with Mileya Mileya. The unprecedented combination of Rekha Bhardwaj, Jigar Saraiya and Priya Andrews is surprisingly good. Rekha's semi-classical vocals against a background of a mostly contemporary track, makes for an interesting listen. The melody is instantly hummable and the minimal lyrics are effective.  However, it's the signature saxophone that makes the track worth your while.
Barring Amitabh's relatively humorous lyrics Paaji Tussi Such a Pussycat is quite unremarkable. It ceases to amuse after the first listen and is much better suited as part of the film's narrative than in itself.
Jaise Mera Tu is a re-offering of Sachin-Jigar's Telugu composition 'Meher Meher'. What the track lacks by way of innovative lyrics, it more than makes up for in strong vocals from Arjit Singh who is well complimented by Priya Saraiya. Like the sax in 'Mileya', the harmonium dominates 'Jaise Mera Tu' giving the contemporary track a rustic desi lilt. It is instantly likeable.
G Phaad Ke has Sachin-Jigar doing what they do best, taking all other party/dance tracks to school.  The track has all the trapping of the next big party/club anthem, namely, cool lyrics, trendy techno and enthusiastic vocals by Divya Kumar and Shefali Alvares and infectiously catchy.  It is the perfect Govinda dance number for the current age.
Khamba Ghani belongs to Papon and Amitabh Bhattacharya, beautiful lyrics voiced by equally beautiful vocals. The Rajasthani hook is quite endearing, especially in light of the additional vocals from Vidhi and Smita who add an ethereal quality to the track. It has a soft rock-esque vibe to it yet very easy on the ears.
The album closes with Haseena Tu Kameena Main. It is a well arranged track, with trendy conversational lyrics brought to life by Siddharth Basrur, Rahul Panday and Shruthi Pathak. It is a decent listen but falls short in light of its predecessors, namely 'Khamba Ghani', 'Mileya' and 'Jaisa Mera Tu'.
In summary, Happy Ending is definitely one of the better albums of 2014. Alternatively, it is a come back of sorts for Sachin-Jigar who have released some forgettable tracks during this year. 'G Phaad Ke' is the obvious winner, closely followed by 'Mileya', 'Jaise Mera Tu' and 'Khamba Ghaani'. 'Haseena Tu Kameena Main' is strictly ok while 'Paaji Tussi Such a Pussycat' has fleeting appeal. All in all, a happy ending.
Happy Ending stars Govinda (Partner, Raavn), Illeana D'Cruz (Barfi) and Saif Ali Khan (Go Goa Gone, Cocktail) in pivotal roles and hits cinemas 21 November 2014.