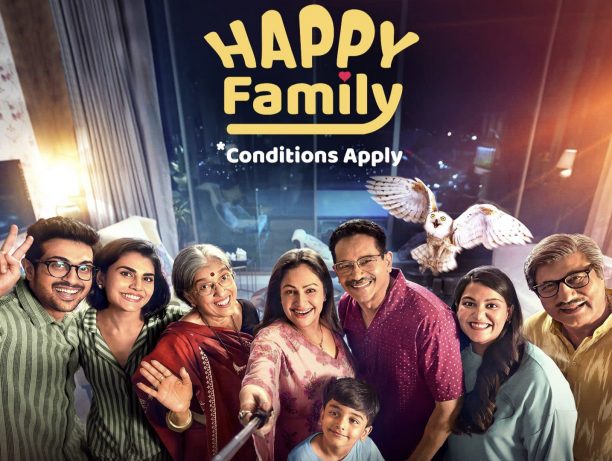 Happy Family, Conditions Apply(Prime)
Directed by Aatish Kapadia, Jamnadas Majethia
Dysfunctional families are the new functional. Coincidentally the feature film Tu Jhoothi Main Makkaar and the series Happy Family, Conditions Apply released this week, share an affinity for the joint family, creaky joints and all, not to mention their lengthy V. Shantaram styled titles.
Happy Family is a strange animal. It infuriates and amuses, exasperates and endears itself provided you stay non-judgemental about the borderline obsessive characters as well as about the content which gives them a freeflowing movement that frequently makes them look foolish.
Part of our mixed feelings come from the fact that the characters, each so sharply written you feel you know him or her (although you don't really want to), are like that: highly annoying and fixated in their opinions. None more so than Hemlata Dholakia, played smirkingly by the magnificent Ratna Pathak Shah who seems to grow better with age (can't say the same about her bitter-half Naseeruddin Shah whose Akbar act in Taj made me exclaim, 'Eeew, Naseer).
Ratna plays the tiresomely whiny matriarch to Raj Babbar quietly acerbic patriarch Mansukhlal. They reminded me of Achala Sachdev and A.K Hangal in the film Kora Kagaz. One so voluble and aggressive that the other has to no choice to stay voluntarily meek.
Since the grandmasters of the Gujju community Aatish Kapadia and Jamnadas Majethia are involved , comparisons with Sarabhai Versus Sarabhai and Khichdi are inevitable, but inappropriate. The characters in Happy Family, Conditions Apply are painted in different strokes.
The equation between Hemlata and her Grand daughter-in-law rises (Meenal Sahu) is far from what we normally get in the Sas-Bahu serials. Hemalata taunts rebukes and insults Tisca. But the spunky girl (who is planning to shift out with her husband Sanjoy, not Sanjay) takes it all on her chin and even forms an uneasy sisterhood with her Sasaumaa.
At any given point in the plot, there is a crossbreed of activities happening. Not all of it is exciting or interesting. Some of the writing, especially about the missing jewellery in the family, needed more of a shoulder. The jokes are often stretched out beyond endurance. But the actors especially Ratna Shah, Babbar, Atul Kulkarni are in fine form. Atul Kumar as the NRI Dholakia heir who has a surprise for the family, is a hoot.
Happy Family is fun in a goofy ground-level connectible kind of way. It may not be a laugh riot. But that's okay. It delivers what it promises.