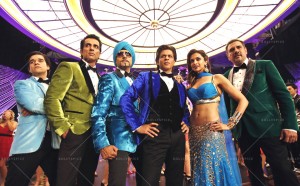 Happy New Year is a rollicking, flamboyant, colourful, witty, action-packed musical bonanza is an underdog story where a team of 'losers', win the love of millions in their quest to pull off the biggest diamond heist ever!! Directed by the great Farah Khan the film stars Deepika Padukone, Shah Rukh Khan, Abhishek Bachchan, Sonu Sood, Boman Irani, Vivaan Shah and Jackie Shroff.
At a recent interview, Farah Khan revealed, "Happy New Year is a musical heist. A film like this has not been done in Bollywood before. For me, filmmaking is not just a technical or commercial process. When I go to watch a movie, I am not thinking how much money the movie has made. I, as an audience, really love watching movies. When you see a sad scene and get emotional, when you hear a song and dance to it … those are the things that make people love films and I want to make films that people love."
At the trailer launch, she said Happy New Year is all about Hope. "This film has all that it takes to make a Bollywood quintessential film but the most important element here is HOPE. It is hope that turns into BELIEF for anyone who works hard in life to achieve their goals. Even if you lose don't let that bring you down and think it is the end."
Shah Rukh Khan added, "Happy New Year is about hope, belief and goodness. It is dedicated to losers. This film is about biggest heist. It's about six losers and one mission. It is not necessary that if you do not win even after repeatedly trying, that you are a loser. This is what Happy New Year is all about. This film is a celebration and most importantly it is as happy as the title is."
Sonu Sood said in an interview that it was the whole package that made him say yes to HNY, "I have never seen a heist film that had music and dance associated with it. So the best part for me about this film is that it is in the typical Bollywood masala style, which is very dear to me."
Boman Irani agreed and added, "This may be a heist film but it is also every bit a Bollywood commercial film. It is all set to be a blockbuster. There are some amazing actors, the script is brilliant and Farah Khan is directing. You can see from the films she has made before that the energy she puts into her work translates extremely well on screen."
Shah Rukh Khan also had nothing but compliments for his co-star Deepika Padukone, "Deepika is an amazing asset to this film. The best part of this film, the core, stems from the lady character of this film, which is played by Deepika, so she really stands for the spine of this film."
Farah complimented her entire cast saying, ""Everyone in the film has done a great job, is a wonderful actor and a wonderful human being."
We have some cool pics, the posters and the totally fun trailer all getting you ready for a Happy New Year this Diwali!