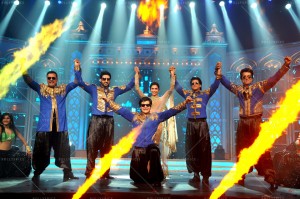 Red Chillies Entertainments Pvt Ltd launched the music of their film Happy New Year on Monday, September 15th, 2014 with the director Farah Khan and the cast Deepika Padukone, Shah Rukh Khan, Abhishek Bachchan, Sonu Sood, Boman Irani, Vivaan Shah, music directors Vishal–Shekhar, Lyricist Irshad Kamil, Singers Neeti Mohan, Kanika Kapoor, Sukhwinder Singh, Dr Zeus and the Producers.
TV personalities Rithvik Dhanjani and Kunwar Amar set the mood for the evening by introducing the first act by singer Neeti Mohan where she sang the medley Manwa Laage which was followed by a performance by Shillong Choir. Then singer Sukhwinder Singh sang his song from the film Satakali. To get the momentum going singer Kanika Kapoor and Dr Zeus performed on the most sensual song of the album, Lovely.
London based magician Keelan Leyser, added to the awesomeness with his tricks on iPAD, but the clear show-stopper of the evening was the performance of the cast on the song India Waale, which was constantly cheered and whistled to.
"Music plays an important part in my all films. I always think of scenes and sequences keeping songs in mind. The music has always taken the story forward, and more so in HNY because a lot of the story has been told through songs. I have to thank Irshad Bhai (Kamil), Vishal-Shekhar and all the singers for doing a fantastic job. Shah Rukh is a great inspiration for making music because he has great songs down the years. I always go that extra mile for the songs because its picturized on him," said Farah Khan, Director HNY.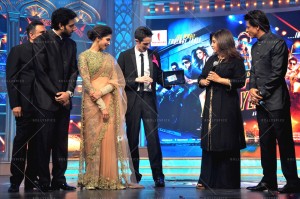 Lyricist Irshad Kamil said, "Working on Happy New Year was a journey of celebration. I want to thank Farah
Khan for converting every music sitting into a party. This experience will surely carry on for life as I am still not out of it, though the music is heading for its launch."
Music Directors Vishal – Shekhar said, "HNY is our third film with Farah who's always been like family to us. The music of the film has every bit of the trademark Farah Khan energy…vibrant and colourful, just like her. It's always a pleasure to work with Farah and the undying faith that she has in us pushes us even harder to exceed her expectations of us each time. It's been an honour to have composed the music for a magnum opus such as this one and the journey has been unforgettable. HNY is our fourth film with Shah Rukh and even today we can say that no one does it the way he does…from being the best producer to the most phenomenal performer. And once again, he's brought our music to life with his magic along with the hugely talented ensemble cast. HNY is sonically massive in keeping with the larger-than-life scale of the film which has seen some amazing team work and has truly been made with a lot of heart."
"Music has always been an integral part of an Indian film. The music of HNY is an album that can cater to all tastes. We hope that it will be liked by all as the music is happy and made from the heart," said Venky Mysore, CEO RCE.
"Happy New Year strengthens the bond that Shah Rukh and I share. The first song India Waale is the new
anthem that has received an overwhelming response across all platforms and Manwa Laange is the new love
song that is topping the charts. The entire music album is so fresh and hummable that the audience will fall in love with each and every composition," said Bhushan Kumar, CMD, T-Series.
Happy New Year is produced by Red Chillies Entertainments Pvt Ltd and distributed by Yash Raj Films worldwide. HNY will release worldwide this Diwali in Hindi, Tamil and Telugu languages.
If you missed the launch you can watch or rewatch it here
Plus check out these cool pics!