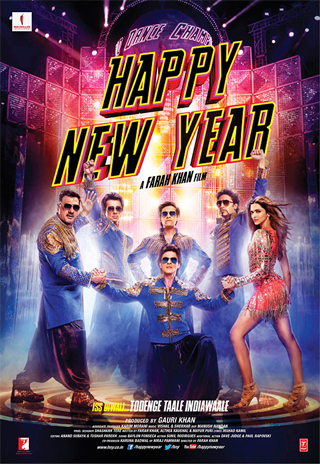 It's not for nothing that Farah Khan is often compared to Manmohan Desai. Who else in the present generation of film makers can come up with a masala fare with a near perfect blend of ingredients like revenge for wronged father, victory of underdogs, impossible diamond heist, and a good dose of patriotism to boot!
Charlie (Shahrukh Khan) puts together a team of 'losers' to carry out a diamond heist. A dynamite expert, a safe cracker, a computer hacker and a tapori gear up to win the world's biggest dance championship to attain this goal. Training this bunch of men with two left feet is bar dancer Mohini (Deepika Padukone). How this team of bad dancers goes on to win the championship as well as steal the diamonds in true blue Hindi film ishtyle is what Farah Khan's latest offering is all about.
There are films that make you think, and then there are films that demand that you stop thinking and let your senses react to what is happening on the screen. The latter is what we call masala cinema and Happy New Year is a fine specimen of this phenomena. When entertaining characters are put in interesting situations, one finds it easy to ignore the lack of logic and Farah Khan seems to understand this well. She revels in creating outrageous scenarios that may throw reason to the winds but ensure 3 hours of pure entertainment.
And yet, it is not mindless. In fact some of the writing is exceptionally clever. There is nothing politically correct here – fun is made of Parsis, illiterates, homosexuals, Saroj Khan and even Narendra Modi – but it all remains cheeky and never crosses the line into offensiveness. Even the camera lingering on Deepika's curves doesn't seem crass. To give Khan her due, it lingers on the male bodies with even more fondness. As it does on Dubai! Showcasing the city in all its glory, the film is a visual spectacle. The good music and smart choreography also add to the wholesome experience.
The easy camaraderie between the actors is another reason the film doesn't falter even when the pace drops at times. Shahrukh broods but never gets too serious, Abhishek Bachchan displays great comic timing, Sonu Sood shows off his chiselled body, Boman Irani blends in perfectly despite the age difference and Vivaan Shah too makes himself a natural part of the team. And then there is the drop dead gorgeous Deepika who lights up the screen so effortlessly. She dances like a dream and the fact that she has grown tremendously as an actor in the last couple of years is apparent in the way she steals the show in quite a few scenes. Jackie Shroff too makes a sauve villain. If only the writing in the first half had been tighter, this would have turned out a near perfect entertainer.
All said and done, Tees Maar Khan can now be forgiven as one-off mistake. Farah Khan is back with a bang! If her earlier films haven't appealed to you, stay away. If they have, go have a rollicking time this festive season.