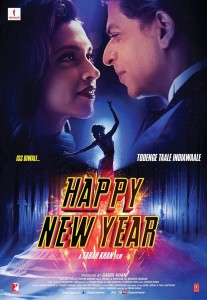 Even with mixed responses Happy New Year is receiving Rs 350 Cr worldwide and still doing great at the box office. Now, Farah Khan has come across another reason to celebrate. The Library of the Academy of Motion Picture Arts & Sciences has chosen HNY's screenplay for their library.
The film written by Farah Khan, Mayur Puri and Athlea K, stars Deepika Padukone, Shah Rukh Khan, Abhishek Bachchan, Sonu Sood, Boman Irani and Vivaan Shah who all play along to the story of typical losers being able to pull off the biggest diamond steal ever!
Once added, the screenplay will be accessible to everyone in the fields related to cinema for research purposes. With the ultimate high that Farah Khan is on right now, she still continues on strutting her thing as she heads off to Kolkata for the closing ceremony of the 20th edition of the Kolkata International Film Festival to showcase women's power in the industry. Definitely a hat's off to Farah Khan!