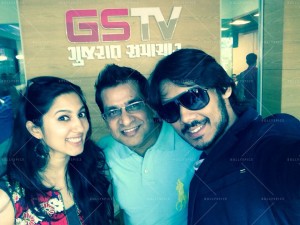 Harsh Vardhan Deo had recently taken the city of Ahmedabad by storm. The star was there promoting his upcoming romantic film Jigariyaa. The actor and the crew were humbled by the overwhelming response they got wherever they went. The Debutant, along with the leading lady Cherry Mardia and director Raj Purohit kick started the promotion with media interaction at the Rajpath Club.
When asked about the similarities with the character that Harsh Vardhan is playing, the charming actor said, "I am a little bit different and yet very similar (to the character). I am also extremely romantic in my real life, I may also be a little foolish… foolishly romantic I would say. The difference is (between harsh Vardhan and the character) he has grown up in a small town in the eighties and I am in today's age having grown up in big cities. The times have changed today. Earlier, you could trust someone blindly and go with your instincts but today you have to be careful and cautious."
Another very important thing that the multifaceted actor shares with his character Shammu, is that they both write Shayari. In- fact, Jigariyaa will be featuring quite a few shayaris penned down by Harsh Vardhan himself.
In the light of the Garba Season the cast and crew visited the famous Rajpath Club Garba. Soon after addressing the fans, Harsh Vardhan and Cherry hit the floor and shook a leg with their fans, Dandiya Style.
The star was totally taken by the energy of the festivities and said, "We could not have visited Ahmedabad at a better time. The whole of the city has come alive. We see a lot of the same energy in Mumbai as well, but the atmosphere here in Ahmedabad is on a whole different level."
The Star and his crew also recently went to Indore for promotions. Harsh Vardhan was seen mingling with the crowd and part took in the Navratri Celebration and dance.
Jigariyaa is scheduled to release on 10th October, 2014.