Harshvardhan Kapoor is ready to hit the big screen and his first film is an epic one! Son of Anil Kapoor and brother to Sonam and Rhea, the young man certainly has acting in his blood and he now prepares to show off his talent in Rakeysh Omprakash Mehra's Mirzya.
A timeless folktale about star-crossed lovers is uniquely told in two parallel worlds, one real, and one fantastical. Set in modern day Rajasthan, the musical is also played out in the mountains of Ladakh where the Punjabi folktale comes to life. The lovers grapple with forces that seek to keep them apart in both avatars but they discover that even a moment of true love is worth an entire lifetime.
In a wonderful conversation Harvarshdhan Kapoor talked with Stacey about preparing for this dual role, finding his characters and then bringing them both to life onscreen. Plus so much more! Enjoy!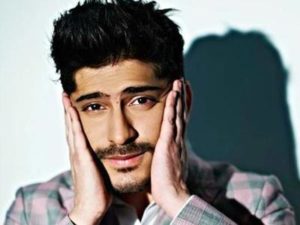 I earlier spoke to Mr. Mehra and he told me that he first saw the actor in you when you were 19, but you said you were not ready, can you explain that.
You know, I was just actually just a college kid. I was getting a BA in screenwriting at Chapman University in California. I was really enjoying being a student of film. Living a life with no responsibilities. I felt like such a kid. I thought maybe I had the potential of being an actor one day, but I was nowhere near ready to pick up that responsibility. I was not ready to make such a big drastic life change so I think that is why I said I wasn't ready.
And then what made you see that yes, this is what I want to do. I am ready.
I think it was a lot of things. I finished college so I had gone through that process of being a student of film for a couple of years. I grew up a little bit. I trained as an actor at the university, although I was a screenwriting major, I did a lot of acting when I had the chance. It was an elective so I did two semesters of acting: Screen Acting 101 and Actor/Writers Workshop, which is where they take you through writing but also you do the basics of acting. I had about a year of acting experience there. I came back to India and by that time I had decided I wanted to be an actor, I was 21 or 22. I spent a lot of time with some really, really talented acting coaches. I didn't have a job at that time. I spent a lot of time going to actor workshops, watching a lot of films. So after doing 2-3 acting workshops and I did a couple of auditions, I reached out to Rakeysh again and said, 'I feel like now might be a good time.'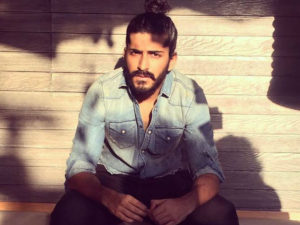 So then you heard the script and the character, and it is just epic, what were you first thoughts?
Well, the uniqueness and the beauty of the project it is so huge, you know? For any film that Rakeysh makes, he only does it once every couple of years. That is kind of his ratio. And then Gulzar, the Academy Award winning legend/poet, writing a screen play after 17 years. And writing a screenplay for another director after more than 2 decades, because the last couple of screenplays he wrote for himself.
For me to hear it… this man who is 80 years old, has written the most contemporary love story that I had read as a guy in his early 20s. Amazing.
It is the modern telling and the classic Punjabi folk tale of Mirza Sahiban. That is just so cool that he did combine and weave those two together. But that must have also been a challenge to play both aspects and both characters.
Immense, it was immense and it is kind of why I probably shied away from it when I was a little younger. It is set in a contemporary setting India in 2016 in Rajasthan. It is also juxtaposed with images from the folk tale Mirza-Sahiban, and we as actors get to play both parts.
We actually approached it as completely different films. We did the contemporary parts of the film first. We filmed in the months of November, December, January, February and some of March. And then took a break for March, April, May and June to prepare for the folk tale and the fantasy parts. Then we went and shot those for 20 days. So in our minds we made two films that were put together by the editor in a really incredible way.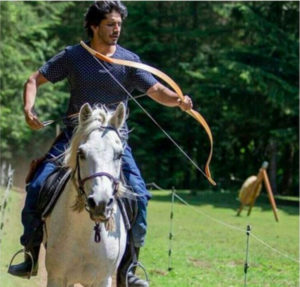 The contemporary character is a guy who works – he is a stable hand. He works with horses. He is a manual laborer. He pays polo with the guests. He is someone who is born and raised in Rajasthan so that is the world he knows and lives in. I developed a very lean type of physique because jockeys and polo players are generally of the lighter side. We also studied a lot of those guys who worked in the stables. They are always on their feet. They are always attending to the foreign tourists: taking them on night safaris or playing polo with the guests or giving riding lessons.
So then the Mirza character, he is a warrior. In the legend, he is supposed to be one of the greatest archers and warriors of all time. I was riding horses for 18 months before we started filming. I was playing with a bow and arrow for about 18 months. I learned to play polo for a month and a half. I lived in Delhi with horses for 6 months. I went to study more in the states, after I had been riding for about a year, to get myself to a very high level. There is this lady Katie Stearns, who operates out of a ranch in a place outside of Seattle called Arlington. I actually lived with her for about five weeks. I had a list of 14 to 15 things I wanted to achieve, which consisted of: I should look like I have been riding a horse for my whole life. I should be able to dismount off of a moving horse, mount on a moving horse, how to get a horseshoe on a horse, and more. That is the first place I combined the archery and the riding and that was a progression of shooting at different things. You know, the journey of getting ready for this was like a film in itself.
And not only that, you had all this preparation, but this is such an intense story that so you also had to find the emotions and the character….
Totally, totally. You know I think a lot of people look at physical and emotional preparation as two separate things. Which it is to a large extent. But a lot of the emotional journey for me… I drew a lot from all the work I put in. I did so much work physically getting ready for the part, when I thought about how hard it was it would make me feel emotional. I used that to my advantage. I applied that when I was working on the scenes.   We had a super teacher called Tina Bertina Johnson who came and spent six weeks with us. We did tons of reading with our director. And then you kind of draw from your own emotional experiences. You have to be extremely emotionally invested.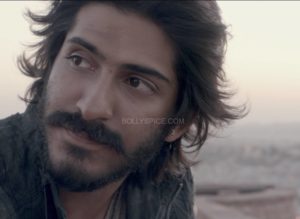 Mr. Mehra told me that the traditional folktale is silent… so you had no words to draw from. When you see the trailer I could see everything and every emotion in your eyes, so how did you do that?
Right! Well, since you are asking me the question… I don't really mean to be arrogant so please don't misunderstand me… A lot of people tell me that I have very expressive eyes. Which I think is a huge blessing. I think it is a big reason why I was cast. I think Rakeysh knew that he needs a young actor, because the character doesn't have too many lines in this movie – so how does someone convey the complex emotions of letting someone go, or falling in love, being in love with somebody or being lost in somebody just without saying anything? Actually a lot of those moments are in the trailer. So that was amazing! About 20 days of filming without saying any words. That was quite an experience. (Laughs) We also shot on the camera called a Phantom that shoots at 22,000 frames per second – extreme slow motion. We had to break our performances down into parts, which was another challenge.
That would make it even hard because you don't have the flow.
Yes! See that camera does not roll for more than a couple of seconds. There were all sorts of challenges. I feel like for a first film I couldn't have asked for a more enriching experience.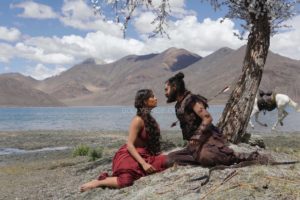 What are your thoughts on the tale of Mirza Sahiban?
There is a whole world in these souls. I personally feel, I hope, I wish, but I don't really know how it would be if I was that madly, deeply in love with somebody. It is a very scary thought. It is extremely frightening. The extent that he loved her. The things that he did for that woman. He did everything for her. He was so in love. There is a moment in the film that she breaks the arrows. He turns and looks at her as to ask her why. Why did you do it? That is one of my favorite moments of the film. That is the reason Rakeysh decided to make the film… to find out why she broke the arrows. To find out how Mirza took that. Was he understanding? Was he accepting? Did he feel betrayed? Did he let go of his love? It is an extremely complex story. I can't imagine myself feeling like that about somebody. I am kind of glad I got to play it on screen.
Why do you think she broke the arrows and how did you play him seeing that she did?
I think that is probably a question for Saiyami but I will try and answer it. From my perspective, when I turned and looked at her in that moment there are a couple of things in that expression that I was trying to convey. I think the first thing I tried to portray is pure shock and betrayal. After that, after he processes that, it is an understanding and letting go. Saying I love you and it is okay. I am ready to die in your arms… happy. Those are kind of the emotions.
The music is absolutely incredible…is there one song that speaks to you?
This is a very interesting question because I actually saw the film yesterday with the cast and crew. And I had four or five of my buddies who are just like normal upper-middle class types that I have grown up with who have been watching all kinds of cinema for their entire lives. So they have a really good understanding of film festival films as well as Indian mainstream films so they have been exposed to all kinds of stuff.  If you look at the CD or on iTunes, there are 15-16 tracks out of which eight are songs, but there is a set of music and narrations that are like 25-30 seconds. Those are actually pieces of poetry that actually take the narrative forward. As a viewer in the United States you are going to watch the film with subtitles, which is so amazing, because you get to understand each and every word which will make you feel so much closer to the film. Because a lot of the people I was watching the film with only speak English and Hindi and a lot of the music and narrations is in Punjabi. It was so interesting to watch them watch it. I really want to see it with a regular audience. I think that those lyrical pieces, those 25-30 second tracks are really great and are the frame of the movie.
In the terms of the tracks there is a song called 'Aave Re Hitchki', it basically means I get hiccups. There is a saying that when somebody is missing you or thinking about you, you get hiccups because Indians are very superstitious. It is a beautiful moment in the film. The song is from my character's perspective and I am seeing this girl after a very long time and I am getting nostalgic about the times we spent together, which is why the hiccups. It is a very beautiful metaphor. I really love that song.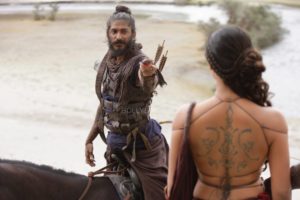 So you said you watched the film, so critiquing your performance what would you say?
You know, I am happy with most of it. I think there are some wonderful moments. There are also parts were my dialog delivery I could have externalized – I could have projected more. See the thing is the contemporary character, we took a decision and it felt very organic for him, to be subdued, which is correct. There is a very thin line between subdued and to be flat. I feel like I got the emotions right but I feel like, and I am being very critical here, in one or two moments I could have vocalized things slightly more. Because again it is a musical, it is a proper musical so it is the music that takes that narrative forward. The dialogues are very few and far between so you want to make the most of your lines. I think in terms of the balance it is good, especially in the emotional scenes. I think there are a couple of lines that I would go back and say them in a different way. Perhaps pitch them a little higher. I won't mention those moments; we can talk about them after you see the film.
What will you take away with you from this film?
See my overall goal as a performer, as an actor in this country, is to do movies that reach out to the Indian audience as well as a world audience. To kind of tell stories to the world, which is not an approach that many people take. It is not an opportunity that very many people get so I have been very lucky. This is premiering at BFI at the London Film Festival and we are also doing Busan. At the same time there is also excitement in the Indian market about the film. So I am kind of taking away the experience of taking a unique story, playing two characters and showing the world. It also will always be on my filmography that my first film as an actor was directed by a BAFTA nominee and written by an Oscar winner. It is… really incredible! It really does not get much better than that!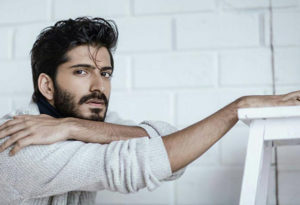 You said you studied screenwriting in college, so do you see yourself writing a movie and directing a movie in the future?
I think acting will be my scene for at least the next 6,7,8 years. But I think there definitely will come a time where I will. It is something that I think of on a daily basis. Even if it just for 5 minutes a day. The only reaction that I have is that it scares the living day lights out of me. It is my dream to become a director, you know? It is such a director's medium. It is completely a director's medium. We are just pawns in the director's vision. I want to have my own vision. I want to execute and I want to develop the story in my own way. I think a decade from now, maybe even two decades from now or it could even be five years, I don't know. It is something that I would like to do at least once in this lifetime.
You also are working on your next film – tell us about that.
Vikramaditya Motwane is the director of my next film. He made films like Udaan and Lootera, which are very, very beautiful films. Udaan was the first film in seven years from an Indian director to compete at Cannes. Lootera was a period romance. Now the film we are doing is called Bhavesh Joshi and it is a vigilante drama. We have finished about half and I will go back to shooting in the middle of November through to next year.
From what we seen so far and the early reviews, Harshvardhan certainly has impressed in his debut film! I would like to thank him for the incredible conversation and say hopefully we will have the chance again soon.
Be sure to check out our other interviews with director Rakeysh Omprakash Mehra and Ehsaan.
Written by the legendary Gulzar, the film also stars newcomers Saiyami Kher, and Anuj Chaudhary along with masters of cinema Om Puri, Art Malik, K. K. Raina, Mirzya opens this Friday, October 7th!