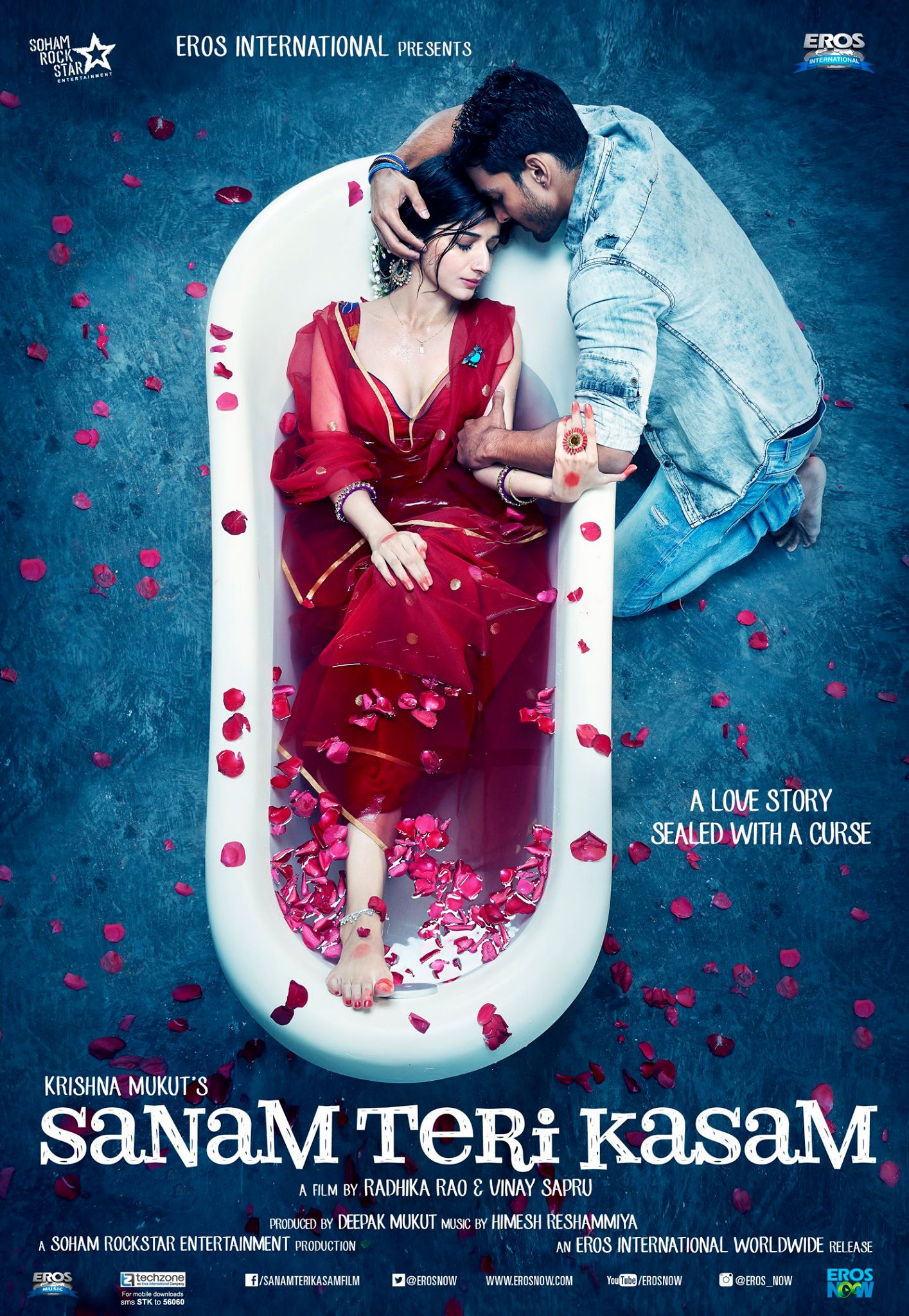 In how many ways do we love Shakespeare's paean to love about the doomed alliance between two socially unequal lovers? I am not too sure how far back the co-directors of  Sanam Teri Kasam (STK), this week's  love-lorn saga would like us to go? Is it Shakespeare's Romeo & Juliet or Erich Segal's Love Story?
Either way, STK is a winsome nugget on love romance and heartbreak with two very watchable newcomers helming the rapturous emotions, navigating the nifty numbers (Himesh Reshammiya) and namkeen dialogues through a coherently charted route to a tragic finale.
A charming simplicity and an arcadian innocence runs through Sanam Teri Kasam, a film far superior in its aspirations and achievements than its namesake released in 1982.
If first impressions are the last, then the moment the film's leading man Harshvardhan Rane walks into the frame you know you are watching a thoughtful variation of clenched intensity of Amitabh Bachchan in Hrishikesh Mukherjee's Mili which Siddharth Malhotra so desperately tried to recreate in that silly film about love loss and retribution Ek Villain.
Sanam Teri Kasam(STK) is also about finding love in unexpected places. It has a certain old-world charm about it. There is a righteous but disgraced daughter dumped by her dreadful daddy, rescued by a sulking Sir Gallahad who has a dark past, and he doesn't try to hide that fact that he has something to hide.
Gosh, does that sound  complicated? Banish that thought. For most of its blithe 2 ½ hour journey STK avoids unnecessary complexities and tangles. The narrative has a knack of making potentially tried and tested, and hence trite and detested, scenes look newly-fangled. There is a sense of thrilling discovery in the way the two Bollywood debutantes grab at the lapels of their characters and push into the interiors of their  world to ferret out emotions that perhaps lie buried too deep for even the script to retrieve.
Rane and Hocane generate a special kinship in scenes that exude a wispy aroma, as though the co-directors Vinay Sapru and Radhika Rao were saluting an era when love was not a commodity to be merchandised in the movies. There is an aura of suppleness and gentleness in the plot's measured movement. Though the characters occupy a fairytale world they nonetheless seem to connect with a  real world populated by believable people, including the heroine's disciplinarian father whose notions of social disgrace are as outdated as the concept of a Plain Jain in spectacles.
Ah, the chashma! It has been a metaphor for feminine drabness from the days of Sadhana in Love In Simla. And when Preity Zinta flung the chashma aside in Kal Ho Na Ho her life changed dramatically. That sense of be(un)spectacled freedom is offered in STK in Saraswati's character. It's another matter that Mowra Hocane looks appealing with or without the chashma.(Maybe braces would have helped). She is clearly an offshoot of early effervescent Jaya Bhaduri. The way her character barges into the brooder hero's troubled life I almost expected Ms Hocane to burst into Maine kaha phoolon se from Mili.
The homage to Mili and the cinema of Hrishikesh Mukherjee is not over-done. The film gathers its wits and charm from its main player's effective presence and from some sensible if not exceptional writing. While Mowra Hocane is a natural-born scene stealer filling the frames with a sunny splendor, it is Harshvardha Rane's clenched and controlled performance that had me thinking of Mr Bachchan in Mili. This actor not only speaks his lines with conviction and clarity he also knows why he is saying what he  is.
While we look forward to seeing more of Rane in the coming years, the co-director Vinay Sapru and Radhika Rao's skills at sketching feelings in the songs also had me hooked. Himesh Reshammiya has not only come up with an engaging soundtrack, the way the songs come alive through the two leads is a joy to behold.
Chirantan Das' camera loves the two protagonists. The cinematography creates a universe of affectionate images around Rane and Hocane. Yes, they seem supremely in  love. As for the editing it is the norm to say in longer films that the editor could have done better. But in this case the length sits lightly on the narration. So a job well done, Devendra Murdeshwar.
Sanam Teri Kasam moves forward with no lofty aspirations except to tell a tale of star-crossed lovers with feelings affection charm  simplicity and sincerity. It succeeds in doing that.