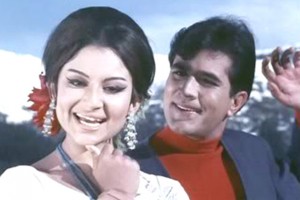 Bollywood has shifted comfortably to the forefront of the industry and become the largest film producer in India as well as one of the largest centres of film production in the world. "By routinely rustling up dream situations, resorting to fairy-tale solutions, by creating candy-floss backdrops and, more often than not, contriving happy endings, commercial Hindi films create a powerful feel-good aura that the masses simply cannot resist." (Source: Encyclopaedia of Hindi Cinema)
However, recent Bollywood productions have somewhat lacked in providing us with storylines, songs and scenes, which would usually pull our heartstrings. Are the films evolving and moving with the times, exploring modern thinking, but how modern is too modern? We seem to be leaving behind the very factors which helped the Bollywood industry create pillars within the film industry.
From the romantic shabd(words) Rajesh Khanna hummed to Sharmila Tagore in Safar, to the Shammi Kapoor classics everything is still remembered till this day. So what is it that old school Bollywood films provided us with that we seem to be lacking in the more recent productions?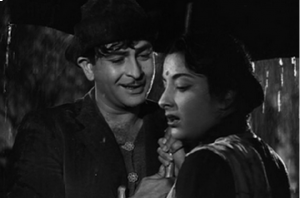 The older Bollywood films placed less emphasises on sex and lust and more on romance and marriage which instilled the values and morals the older generation enforced upon their families. Even the songs only lightly touched upon the topic of sex through the use of connotations, such as a woman dressed in red to signify the lust and sexual desires.
Women were presented to us as innocent and shy yet strong enough to pursue their love interest whilst also being depicted as one who values herself. Whereas, men were presented as flirtatious but respectful toward the woman, with the villain character displaying the qualities that today the male protagonist seems to carry forward himself. The films of the yesteryears portrayed marriage as the epitome of the lead actors love whereas now the subjects of sex, lust and desire are explored first and marriage is considered second.
Additionally, the traditional films captured the essence of love through the dialogue; they made you believe that love really does conquer all and that every obstacle you face could be fought as long as love was by your side.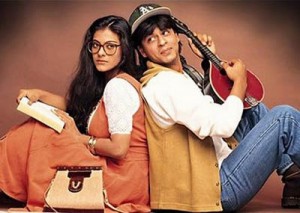 Many a fan has lamented lately on the lack of classic filmi romance movie. We want our brushing by but not meeting yet, we want our romantic song in Switzerland in the sari; we want the constant daydreaming and unfinished meetings between the two. Films like, Diwale Dulhania Le Jayega and Kuch Kuch Hota Hai oozed with romance and provided us with all of these.
They allowed us to be a part of the daydreaming and yearning for one another, they allowed us to see the love begin and develop. The character 'Raj' became a benchmark to which we measured future 'Rajs' too and it encouraged us to want a 'Raj' in real life. Kuch Kuch Hota Hai gave us heartache; it showed us how far faith in love could take you.
Love Aaj Kal showed the contrast between traditional old-fashioned love and modern love and it explored just how much it has changed. It provided the filmi romance through 'Rishi Kapoor's old love story' were the hero protagonist turns up at the girls wedding and rescues her, resulting in a happy ending. Whereas, compared to the modern love story, Saif Ali Khan and Deepika Padukone break off their relationship and try to meet other people; new factors are explored of such as moving on, staying friends with your ex and so forth. The contrast between the two love stories is apparent. Rishi Kapoor's traditional love story portrays the classic 'do or die' romance, whereas, Saif Ali Khan's love story represents the new era of romance of exploring other things apart from love. Putting other factors before love, such as your career and exploring other potential love interests.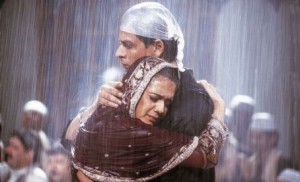 Veer Zaara showed us love has no boundaries and knows no distance, by reuniting two lovers who had been separated previously. All in all, these Bollywood films showed us the power of love, it gave us the romantic songs shot abroad, it allowed us to place ourselves in the film and yearn for the unity of the two characters.
It can be argued however, that Bollywood is choosing to move with the times and portray what they feel are more modern concepts and ideas of our society. More recent productions such as Once Upon A Time in Mumbaai, Heroine, Jism, openly display kissing scenes and scenes of sexual nature. The chemistry and lust is explored between the characters, sex before marriage is portrayed as acceptable and the enigma of desire is presented to us in the first instance through the female characters being dressed in revealing western clothes.
The audience along with the male actors are encouraged to develop a desire to want the female actress.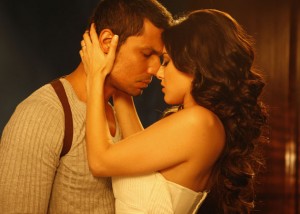 Recent films such as Desi Boyz explores how stability and money also play a part in life as well as love as John Abraham is scared to lose his love interest after having lost his job. It can be said that today, films are more than likely to explore other aspects which are significant in life, which older films did not capture as they relied heavily on love being the only factor you needed to stay together.
In an industry where too much reality is an abomination, recent productions encourage the moviegoer to confront their depressing ends by presenting the struggles in the storyline that one many face in real life. Is it not the job of these films to provide us with factors we can only aspire to have. Does the moviegoer expect escapism so that they may project themselves in the film which traditional films use to allow, or do they want a more realistic approach to cinema through exploring aspects of human experiences?
"It is not without reason; therefore, that Mumbai's filmmakers are often called dream merchants and showmen. It is all indeed a big, elaborate show, but behind the reveries that the Mumbai film industry touts, is a grain of truth, a reflection of the aspirations of the people. Hindi film heroes have the courage and the might to fight adversity in a manner that, for the common man, can only exist in the realm of the imagination. The leading ladies possess the kind of beauty that a woman can only aspire to in reality. "(Source: Encyclopaedia of Hindi Cinema)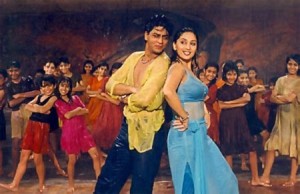 Whether we watch Hindi films to aspire to be as beautiful as the leading ladies or as strong as the men or whether we watch them to gain a perspective on social and political issues, there are five things Bollywood has taught us, as tweeted by Shahrukh Khan, "Just read this on the net, 5 things that Indian movies have taught us."
1)     At least one of the identical twins born is evil..!!
2)     While defusing a bomb, don't worry which wire to cut, you will always choose the right one!!
3)     A hero will show no pain while getting beaten up but will show pain when a woman is trying to clean his wound..!!
4)     A police can solve a case only when he is suspended from duty..!!
5)     If you decide to start dancing on street, everyone you meet will know the step!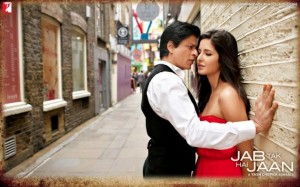 A plea to all filmmakers, we love the traditional melodramatic love scenes, we love the dance-sequenced songs in the middle of the street and we certainly love the final scenes in which love is expressed at moments which would not run so smoothly in real life.
So, here's to Yash Chopra who has always brought us ever green classics and we are sure his final film Jab Tak Hai Jaan will surely light up our screens with traditional, heart warming romance that we all love.