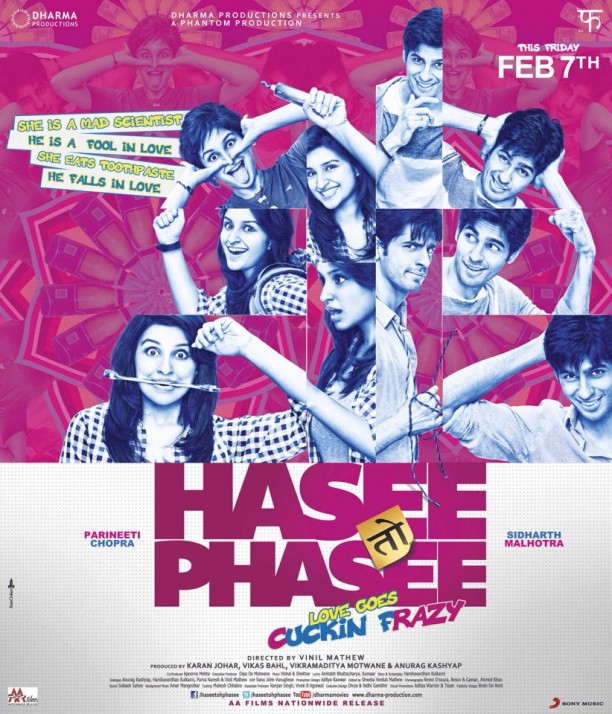 Nothing frustrates as much as a wasted opportunity. Hasee Toh Phasee had half its job done with the casting of the super talented Parineeti Chopra and the very sincere Sidharth Malhotra. So likeable are they together that one really really wants to like the film. Alas, the mediocre writing lets them down.
Nikhil (Sidharth) is the black sheep of his family of super-achievers, but basically a nice guy with a difficult-to-impress fiancé Karishma (Adah Sharma). A week before their wedding is to take place, Karishma asks him to take her estranged sister Meeta (Parineeti) under his wing for a few days. Meeta not only turns out to be ditzy and strange, she also has a mysterious past. And yet, in the midst of the festivities leading up to the wedding day, there starts an unlikely friendship between Nikhil and Meeta.
Hasee Toh Phasee keeps promising a good time just around the corner. One goes along for the ride but those big moments never really materialise. Thankfully, there are a few sparkling small moments that save the film from being a complete drag. There is a spoof on a popular TV serial that brings the house down, and a father-daughter moment in the pre-climax that brings a lump to the throat. First time director Vinil Mathew is an ad film maker and maybe that's why he is able to give the right punch to those small moments. Unfortunately, his grasp on the larger picture is not so good. He also commits the rom-com sin of sprinkling the narrative with badly composed and boringly choreographed songs.
What Mathew does manage quite well is casting of his actors, especially the leads. This new pair is a delight to watch. While Parineeti manages to carry off an unconvincing character with aplomb, Sidharth shows vast improvement over his first film and matches up to Parineeti's histrionics. And though the chemistry between them remains cold, they do manage to light up the screen with their easy camaraderie. The supporting cast is also very good, especially Sharat Saxena and Manoj Joshi as the two fathers. Special mention must be made Anil Mange who plays Nikhil's cousin from a small town.
A rom-com is not so much about the story as the storytelling. There is only so much good actors can do when the character motivations are unconvincing and the humour half-baked. Hasee Toh Phasee can be watched as a half-decent family entertainer. Those expecting a Valentine season offering may end up disappointed.