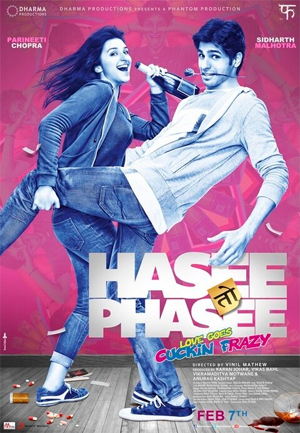 One year after the release of his debut film Student of the Year, Siddharth Malhotra returns as the male lead with his second film Hasee Toh Phasee. Starring opposite the beautiful Parineeti Chopra, Hasee Toh Phasee has been directed by Vinil Mathew and has been produced by Karan Johar and Anurag Kashyap. Dubbed as a romantic comedy, the film is slated for release in cinemas worldwide on 7 February, 2014! The music has been composed by Vishal-Shekhar, who have previously composed albums such as Chennai Express and Student of the Year. The lyrics have been penned by Kumaar and Amitabh Bhattacharya. So is the music to Hasee To Phasee worth listening to? Check out our review to uncover our verdict!
First up is 'Punjabi Wedding Song', a flavoursome duet by Sunidhi Chauhan and Benny Dayal. I very much enjoyed the up-tempo beats to this song and instruments such as the dhol drums have been well used. The vocals have also been delivered superbly and Sunidhi and Benny manage to sing as energetically as possible. A cool desi tune that will put you in the mood for dancing!
Next we have 'Shake It Like Shammi', sung by Benny Dayal. Vishal-Shekhar do their best to give this song a 60s touch to it. However, they do not manage to pull it off and hence, I found it to be slightly over the top. In addition, the musical arrangement does not do justice to Benny's voice and he has much more intriguing songs to his back-catalogue than this one. Overall, a mediocre song that will not make you want to 'shake it like Shammi.'
Following this is 'Drama Queen' by the delightful Shreya Ghosal. I did like some of the techno elements to this song which gives it somewhat of an edge. Yet the song in general is not appealing and Shreya deserves something better to sing to than this mess of a composition. Hence, give it a miss as it has not catch to it whatsoever!
'Manchala' is next and has been performed by Shafqat Amanat Ali and Nupur Pant. I enjoyed the smooth melody to this song and Shafqat and Nupur manage to showcase their voices very nicely. I think it will be appreciated by the wider audience as it's a different sort of ballad which we rarely hear. Therefore, do give this one a chance.
We also have 'Zehnaseeb', which is sung by Chinmayi Sripaada and Shekhar Ravjiani. This one has been respectably composed and the vocals have also been delivered well. Yet I had a mixed reaction towards it. It was good but by no means great.
Finally there is 'Ishq Bulaava', sung by Sanam Puri and Shipra Goyal. You can hear a range of instruments in this one such as the piano, guitar and even the harmonium. However, this song was sadly boring to listen to and has no charm to it at all. I was disappointed as it could have been a really great song had more consideration been put into the composition.
To sum up, I was somewhat left unsatisfied with the soundtrack to Hasee Toh Phasee. With the exception of a few songs, the rest of the album was not at the standard which us music lovers would have wanted it to be at. Given that Vishal-Shekhar are behind this one, this left me even more disappointed as they are known for having created some outstanding music over the years. To describe the soundtrack to Hasee Toh Phasee; it's a half-baked cake which needed more time in the oven!