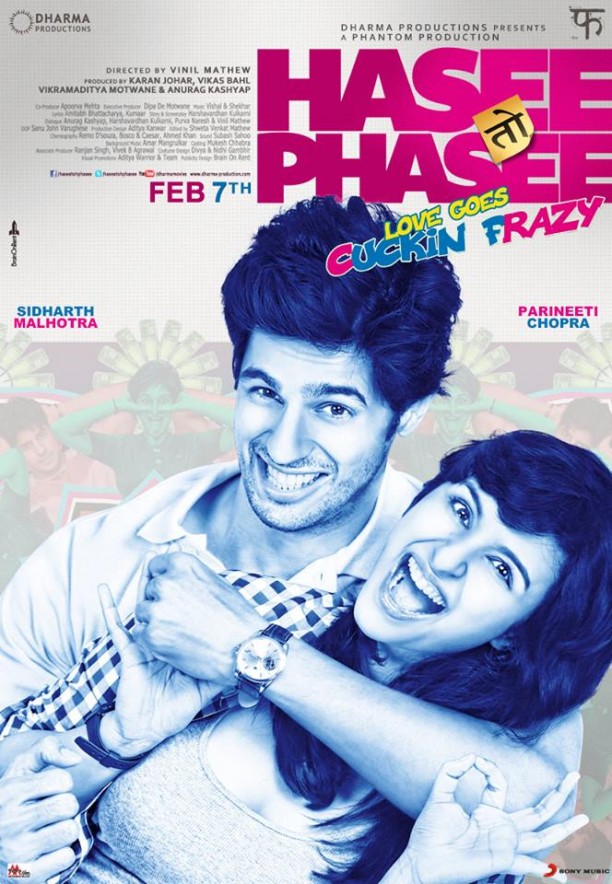 Reliance Home Video & Games releases the romantic comedy film Hasee Toh Phasee on Home Video.
Hasee Toh Phasee is a Phantom Production. The film has been presented by Dharma Productions, directed by Vinil Mathew and produced by Karan Johar, Vikas Bahl, Vikramaditya Motwane & Anurag Kashyap. Hasee Toh Phasee features Sidharth Malhotra and Parineeti Chopra in pivotal roles.
The film will be available in a variety of formats to suit your home-viewing pleasure & will be made available pan India across all leading Home Entertainment chains and also on key online portals.
Available on Blu-ray (MRP: Rs.799), DVD (MRP: Rs.299) & VCD (MRP. Rs.125)
Blu-ray & DVD include exclusive bonus content:
· The Making of Hasee Toh Phasee
· Hasee Toh Phasee The Costumes
· The Making of Drama Queen
· Mumbai Local Hasee Toh Phasee Location
· Hasee Toh Phasse The Look
· Deleted Scenes
Synopsis:
Spread across Mumbai, over a decade the film is about the relationship between the quirky, rebellious Meeta (Parineeti Chopra), and the mischievous Nikhil (Sidharth Malhotra) struggling with their respective families to fit in. Nikhil bumps into Meeta on the occasion of her sister Deeksha's wedding while Meeta is on the run. He falls in love with Meeta's sister Karishma on the same day.
The film jumps to the eve of Nikhil and Karishma's engagement. Karishma's wealthy father, Devesh Solanki, does not approve of Nikhil as he finds him to be a lack a daisical young man. On the day of his engagement, Nikhil promises Karishma that he will prove himself to be worthy of her within the next seven days.
Nikhil is re-introduced to Meeta by Karishma and is instructed to put her up in a hotel. Nikhil recognizes Meeta. In an attempt to please Karishma he decides to keep Meeta in the flat above his own house, with his crazy extended family. During the course of Meeta's stay at Nikhil's house, they come close to each other and open up to each other.
In the midst of this confusion, the truth of relationships is unfolded; the strength of unions is tested and love triumphs.
Critics Comments & Ratings
"Hasee Toh Phasee is for the romantics who like their martinis stirred not shaken. This romantic comedy mirrors the quirks in human nature subtly and provides humour in everyday situations; in the family and amongst friends." …Rating 4/5 – Meena Iyer – The Times Of India
"Hasee Toh Phasee dares to be distinctive. This one's not merely about opposites falling in love. It is bright-and-breezy, charming and refreshing rom-com that makes you smile, laugh and gets you moist-eyed at regular intervals. A qualitative film that warms the cockles of your heart" …Rating 3.5/5 – Taran Adarsh – Bollywood Hungama
"Hasee Toh Phasee is that rare film that allows you to know the two people you're investing in. And the closer you get, the more they win you over. Parineeti sinks her teeth into this misunderstood kook without a trace of self-consciousness or exaggeration. If that's not magical enough, what Hasee Toh Phasee celebrates certainly is. That the only high you need is life, love and smiles." …Rating 3.5/5 – Sukanya Verma – Rediff
Grab your copy at your nearest store today!