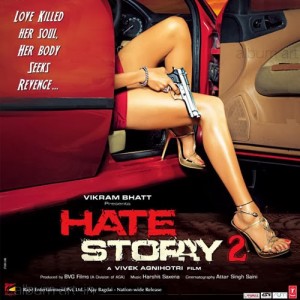 Hate Story 2 is an upcoming thriller starring Jay Bhanushali and Surveen Chawla in the leading roles. Directed by Mayank Gupta, the film is scheduled to release in cinemas on 18th July, so if you're looking to see something different, then perhaps this one may well be up your alley. The music to the film has been composed by Mithoon, Meet Bros Anjjan, Arko Pravo Mukherjee and Rashid Khan. Lyrics have been penned by Mithoon, Aziz Qaisi, Arko Pravo Mukherjee, Kumaar and Tanveer Ghazi. So is the soundtrack to Hate Story 2 worth your time? Check out our review to uncover our verdict!
First up we have 'Aaj Phir Tumpe', which is a worked remake of Laxmikant-Pyarelal's classic song from the film Dayavan (1988). I like how the song opens and the guitar has been executed very well, giving it that Middle Eastern feel. There are also some other standout sounds such as the piano and the trumpet, which helps to solidify its essentially erotic theme. Performed by Arijit Singh and Samira Koppikar, I think both singers have done their best in helping to renovate this forgotten classic. Though 'Aaj Phir Tumpe' is not the best songs to emerge this year, it is one of the major highlights of this album, so do make the time to check it out.
Next is 'Kabhi Aayine Pe Likha Tujhe', sung by K.K. The use of the piano at the beginning of the song gives it a soothing touch, whereas the guitar and bass play a key role in making it sound rhythmic throughout. A special mention should also go to the lyrics, which have been nicely written and is a suitable match with the composition. In addition, K.K sings the song flawlessly and he really does get the notes just right. You get an instant sense of just how passionate he is about what he is singing, which leads him to steer the song away from disaster. Instead you get a song that is tuneful and meaningful also. In short, do give it a listen!
Following this we have 'Pink Lips' by Meet Bros Anjjan and Khushboo Grewal. I found this one to be slightly tacky and lacking in flavour. Though you can hear a range of sounds having been incorporated into the song, it just sounds very amateurish for me to fully appreciate it. Featuring Sunny Leone in the official music video, I think this is a song which won't go down well with Bollywood lovers worldwide.
Finally we have 'Hai Dil Mera', performed by the evergreen Arijit Singh. I like the Latino sounds at the opening of the song, which gives a sensuous texture to it. Instruments such as the guitar have been nicely played and will put you in a tranquil mood. Unsurprisingly, Arijit sings his heart out and he knows exactly what types of vocals to exude in order to tug on our heartstrings. Though it has little potential to become a classic, I still think it's another key track in the album that is worth listening to and which you will appreciate too.
There are also remix versions for all four songs that are included in the album and composed by DJ Shiva, Meet Bros Anjjan & Sumit Sethi, Dj Chetas & DJ Nyk, as well as DJ A-Myth. Having listened to all four remixes, I found myself leaning only towards DJ Chetas' version of 'Hai Dil Yeh Mera' where they managed to brilliantly transform a ballad into a cool underground upbeat tune that is both fiery and catchy. This is largely due to the way in which they utilised the bass sounds, which fueled it up with lots of energy.
In short, I found the soundtrack to Hate Story 2 to be a worthwhile listen that may be of interest to a number of listeners. Though it is not the ultimate soundtrack of 2014, it still contains some songs that have been respectably composed and interspersed with some top-notch vocals by singers like Arijit Singh and K.K. Hence, give it a chance and perhaps it will have a mesmerising affect on you.